Ideal beaches for family fun in Sant Josep
Summer is the time of year when the word holidays is on everyone's lips. And especially in the case of families with children, particularly if the idea is a trip where the beach is the ultimate destination. For those who have been smart enough to choose Sant Josep for their holiday, the possibilities of enjoying the white sands and transparent waters are multiplied further with innumerable options, all equally attractive.
Logically, parents want to ensure a safe environment for their children especially if they are very small, somewhere with easy access and plenty of activities. And in this regard Sant Josep has an amazing choice of perfect family beaches. Here are just of few of them:
At the southernmost point of the municipality, and set in the heart of a Natural Park, the cosmopolitan beach of Ses Salines is part of an area that is replete with birdlife and amazing scenery.
The beach, which lies alongside the salt pans from which it takes its name, is almost a kilometre in length, mostly a fringe of white sand lapped by translucent waters. Various wooden ramps lead down to the beach providing access from the public carpark behind the sand dunes nearby. Reaching the beach is easy and uncomplicated.
Almost 25 metres of sand stretch down to the shore where the seabed also consists of soft fine white sand. The water is shallow, and you have to walk several metres before it reaches your waist, so it is ideal for small children. The beach is manned by lifeguards and bathing areas are marked by buoys, and there is also a channel for access of pleasure craft such as catamarans or sailing boats. There are also several restaurants and so you are safe in the knowledge that all basic services are catered for.
At the western point, this beach lies between the coves of Cala Corral and Cala Molí and it is easy to get to. It is about 300 metres long and stretches some 40 metres down to the shore. Two islets close to the coastline divide the seashore into 3 areas, even though they share the same expanse of sand. The beach is bordered by several hotels and restaurants with all the services you need, and a wide range of aquatic sports is available, including diving and water skiing, not to mention jet skis, pedalos and speedboats. It is also provided with a lifeguard service and showers.
Facing southeast, Cala d'Hort is special in that it affords impressive views out towards the iconic islet of Es Vedrá and its sister islet Es Vedranell. The beach is a mix of shingle and sand and is around 170 metres long. There are a couple of beach restaurants with all the services you need. Access is easy, though make sure you go early so that you can park the car in the vicinity. Pedalos, boats, kayaks and paddle surf can all be hired here.
This beach with its dazzling white sand and crystal-clear waters faces northward. Close to the great bay of Sant Antoni, the beach emerges at the edge of a huge juniper wood and extends over 30 metres leading down to the sea along 300 metres of shoreline. Several restaurants can be found in the beach area which has easy access and controlled parking. Wooden ramps make beach access easy.
There you can find all kinds of activities and water sports to enjoy: pedalos, kayak, inflatable banana boat, jet ski etc. The shoreline slopes gently down to the sea which makes it ideal for bathing with small children and even babies. And the white sandy seabed is irresistible for kiddy snorkelling. The beach has washrooms and is manned by lifeguards.
Looking westwards, Cala Vedella is reached through an opening between two steep walls of rock that make it a natural port with a sandy beach 250 metres long and with a wide stretch of 70 metres leading down to the sea, providing plenty of space for fun and games. With a carpark close by the beach, access is on a level plane with no steep inclines It boasts a lifeguard, washrooms and showers, as well as water sports facilities with rental of pedalos and kayaks, jet skis and a diving centre. It's the perfect place to learn water sports, including underwater diving.
This beach which is around 100 metres long is one of the classic summer destinations for locals, and families in particular. It has undergone urban development and so has all kinds of services and utilities. It has an access ramp, a lifeguard service, washrooms, and with its family friendly gentle slopes, it is ideal for fun and enjoyment.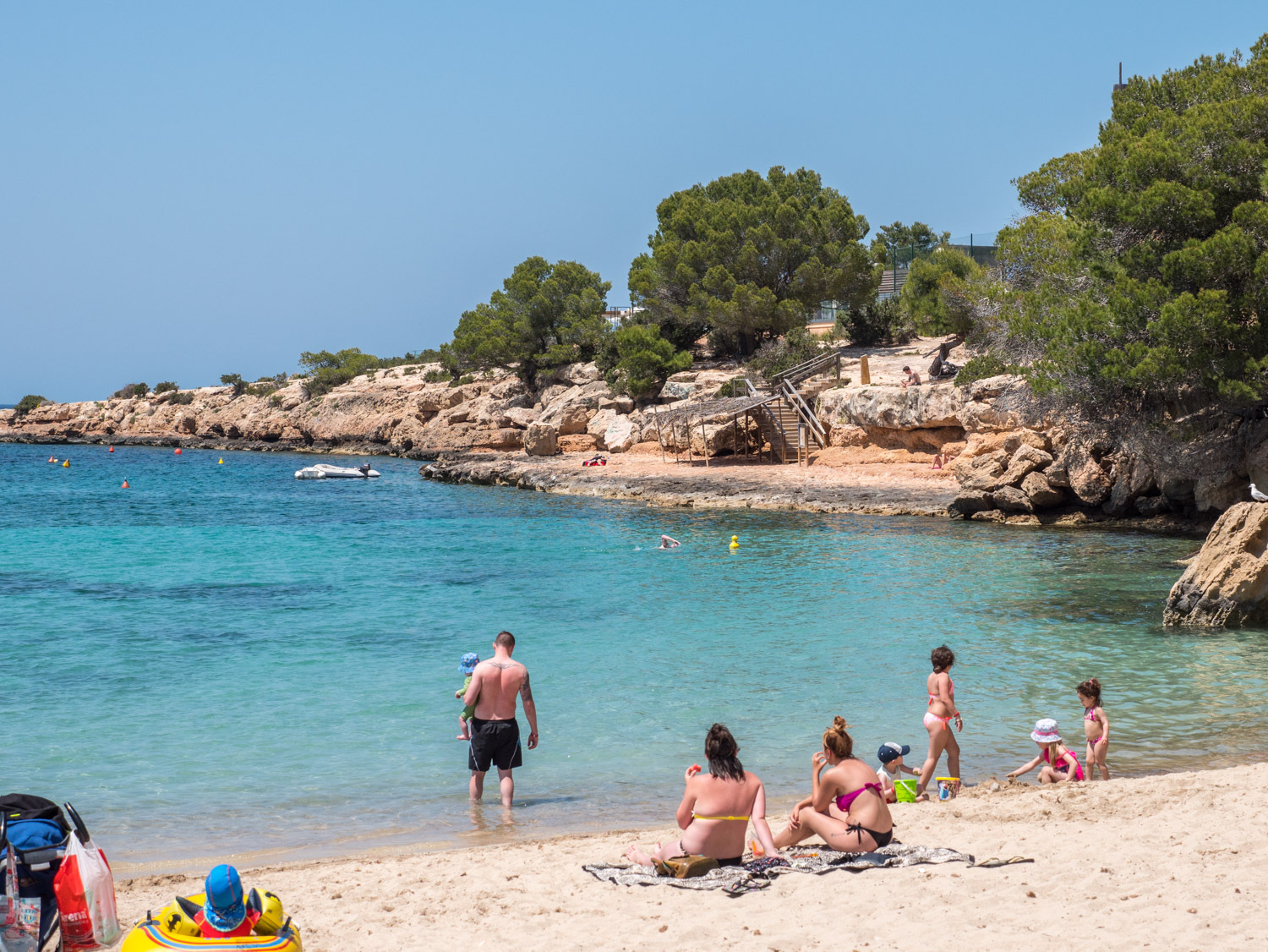 Es Pinet is at the southernmost point of the great bay of Sant Antoni. It is a pleasant little cove, 100 metres long with alternating sand on the outside and rocks and sand further in from the shore. Surrounded by hotels, the beach is equipped with every possible service; pedalos, sailing boats and jet ski are available for rent, and there is even a little water park on the seashore. It is a wonderland for kids, and parents will be happy with all the facilities such as easy access and public transport.