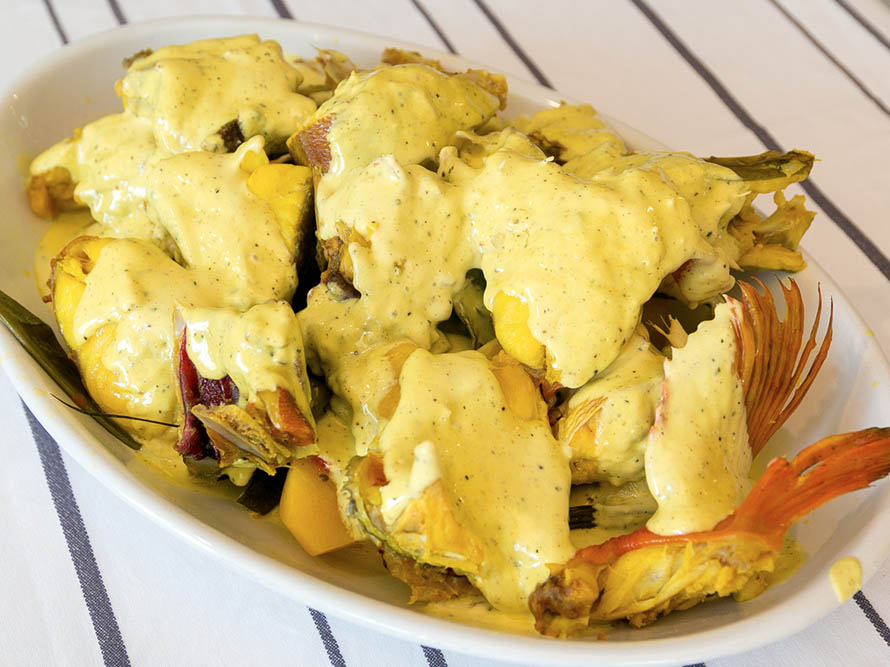 6 seafood dishes that offer a taste of Ibiza
Our island is famous the world over for many things ranging from its nightlife to relaxation and from its natural coastline to its delightful beaches but … what role does gastronomy play in the image we have of Ibiza? The island has a great culinary history that is rich in tradition and has a deep respect for the fresh ingredients proffered by both its oceans and land. When top quality, fresh ingredients and the taste of the Mediterranean are combined the result is extraordinarily exquisite.
Ibizan cuisine is about savouring crystal clear waters. It is about nibbling on the countryside toasted by the Mediterranean sun. And sampling its wines and oils is an experience that transports us back to a time when food tasted as food should. For all of you that would like to get to know Ibizan culture a bit better, here are 5 seafood dishes that have been made on the island since time immemorial: this is the perfect (and delicious) opportunity to get to know the true taste of Ibiza and our seafood.
Bullit de Peix
This is one of the most typical Ibizan dishes and is on the menu in many restaurants. This is a two-part dish: first fresh fish from the Ibizan coast such as rotja, grouper or John Dory is cooked in a fish broth and served with a sofrito sauce of fried onion, tomato, peppers garlic and parsley with a good splash of olive oil and diced Ibizan potatoes. When the potatoes are almost done pieces of fish are added. This dish is served on a tray with the fish served without its broth. It is then dressed with a blend of allioli and fish broth.
This same fish broth is then used to prepare part two of the ensemble  "arròs a banda" (rice in fish broth). A two part ensemble with a delicious finale.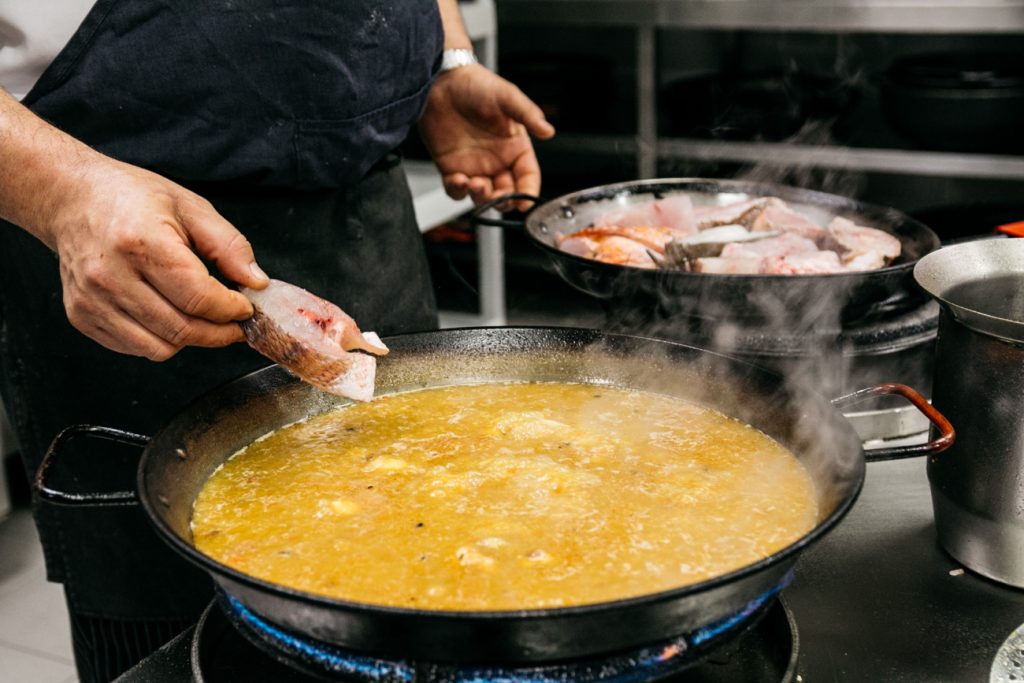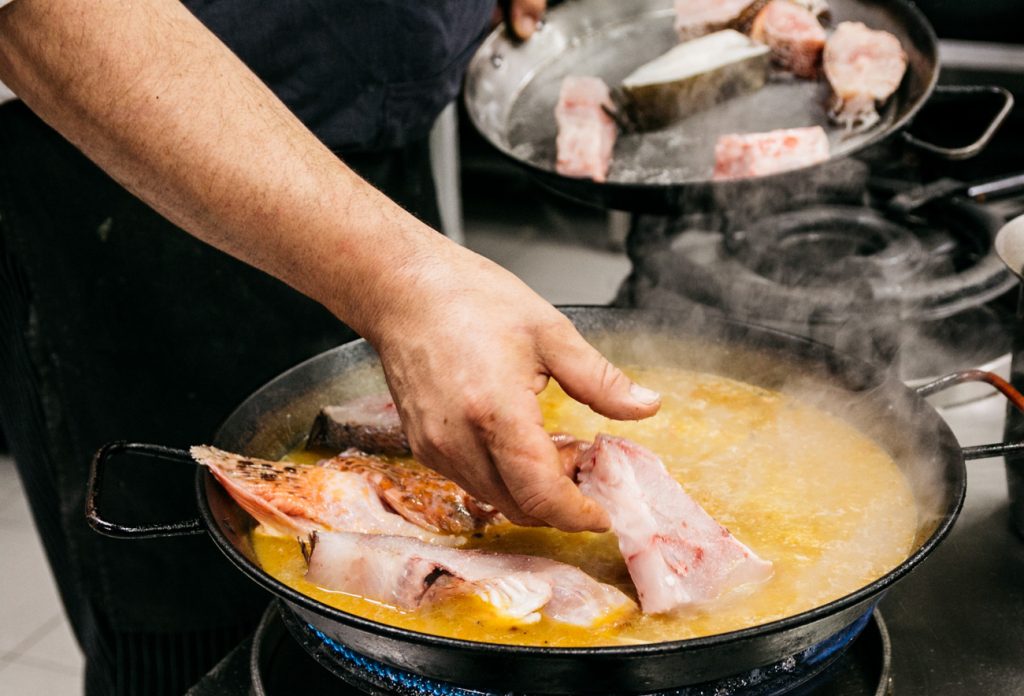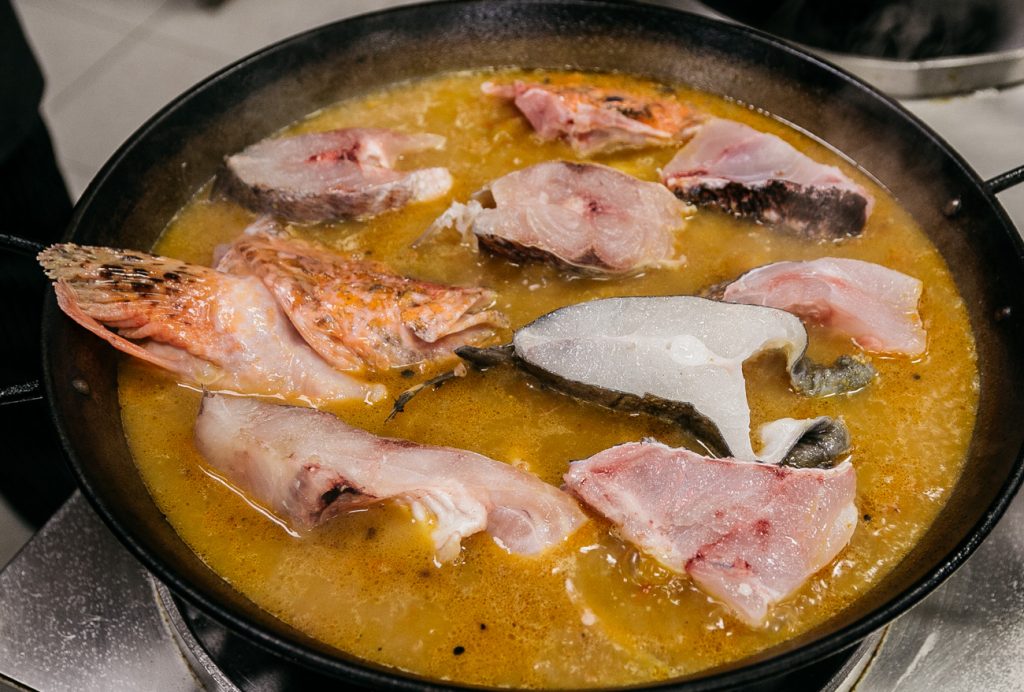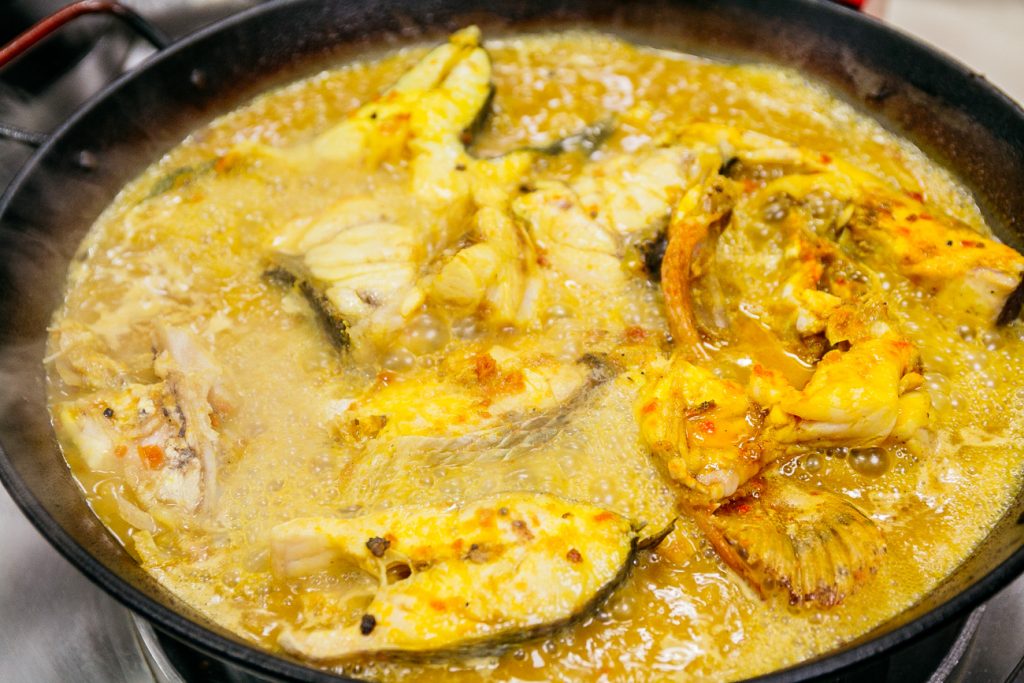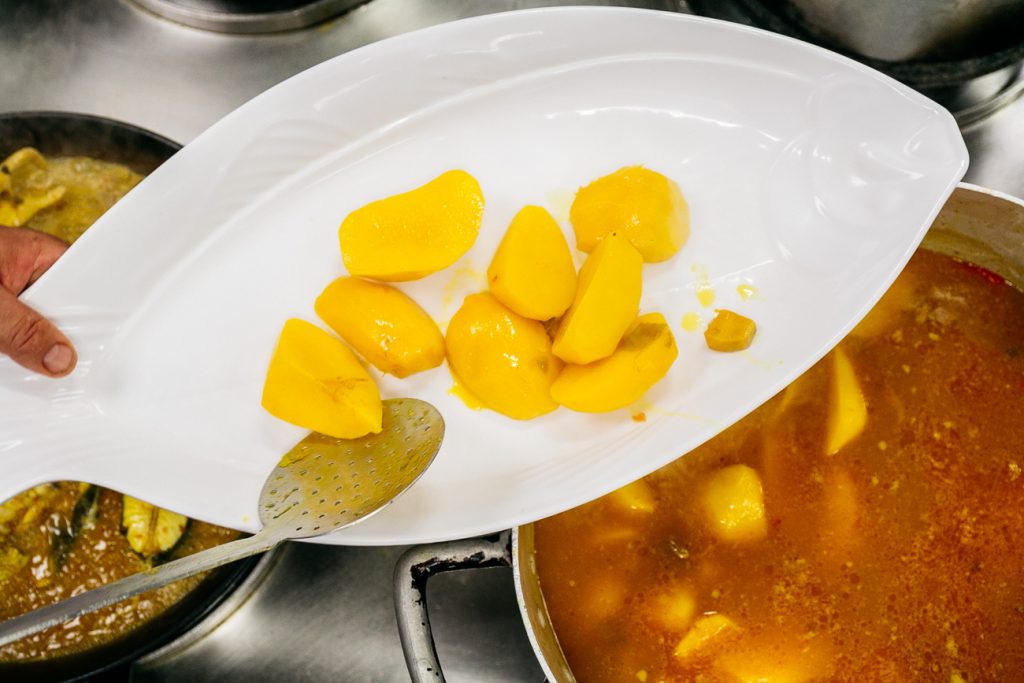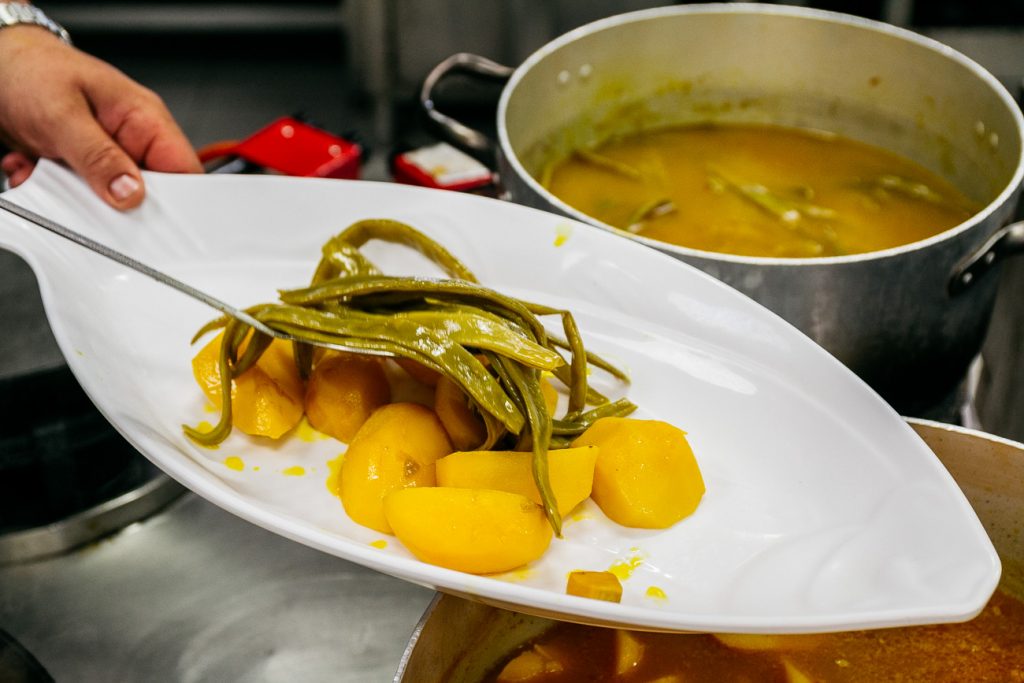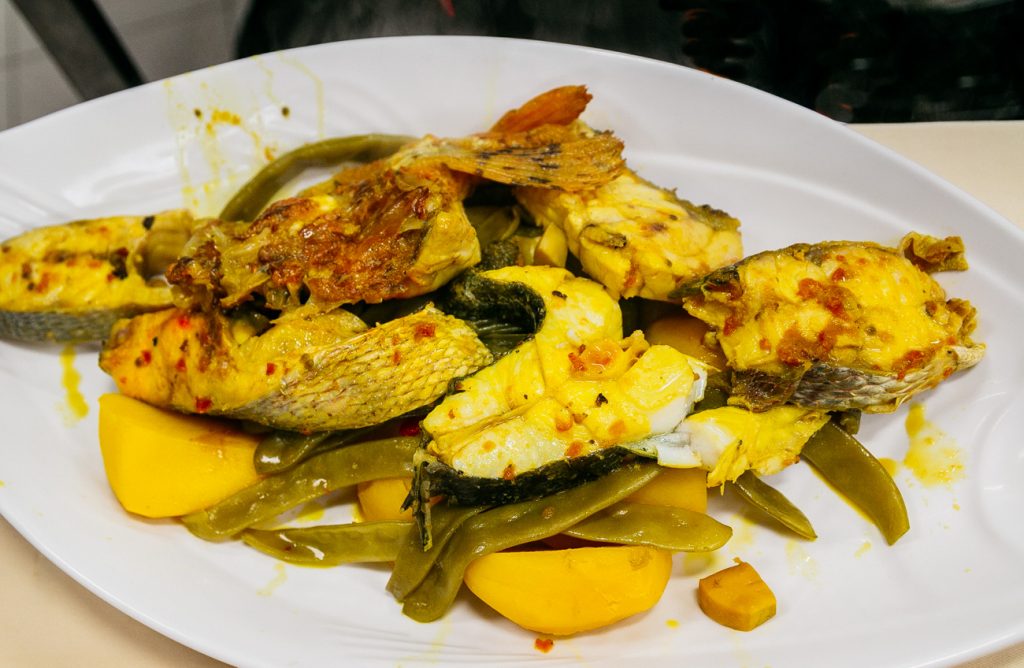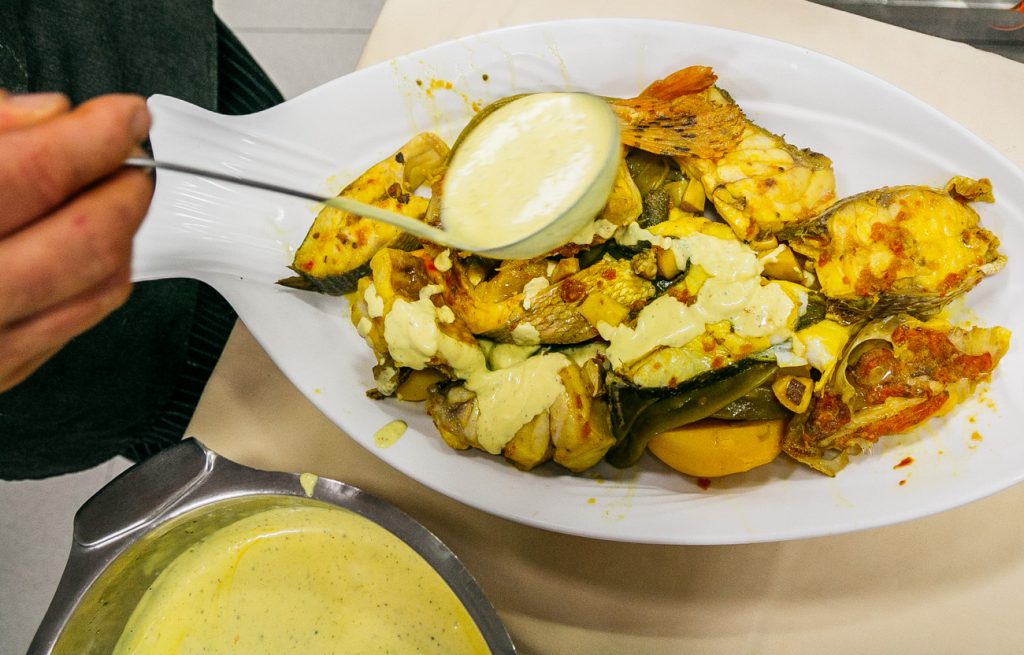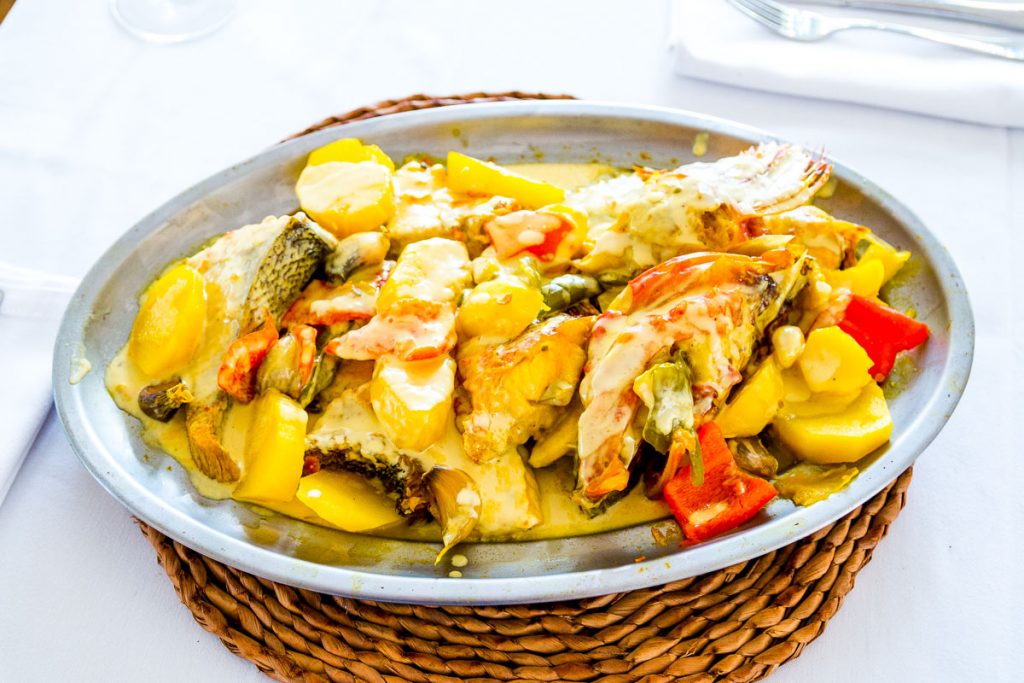 [su_row]    [/su_row]
The most traditional variation of this stew is Guisat de Peix. It was typically eaten in the past by fishermen who prepared it on their boats whilst out at sea. An assortment of different types of fish and potatoes are cooked with a traditional blend of chopped almonds and spicy red peppers. Unlike Bullit de Peix this is served with the broth and rice is not served as a second course.
Peix en Salmorra
Another typical fish dish is Peix en Salmorra. This is made with a sofrito sauce of fried onion and tomato with olive oil and fish broth. Fresh fish (preferably grouper, rotja or dentex) is cooked in this sauce and is usually dressed with black pepper and lemon juice. When cooked correctly the fish keeps its texture and the splash of olive oil and spiciness give it a really delicious flavour. As with Bullit de Peix the left-over broth can be used to make an "arròs a banda".
Fish and fresh seafood
One of the jewels of the Ibizan sea is its fresh rock fish and deep water fish. Fish is prepared in different ways: Generally it is prepared in a salt crust, baked, fried or grilled. It is cooked using methods that respect the product whilst allowing us to savour all its excellence and quality.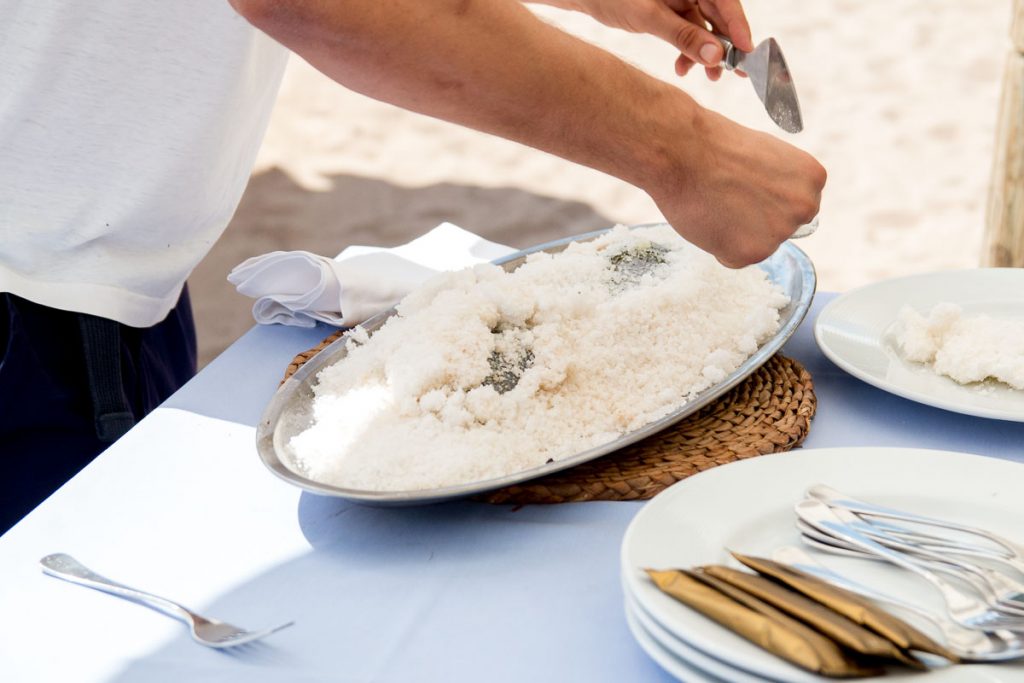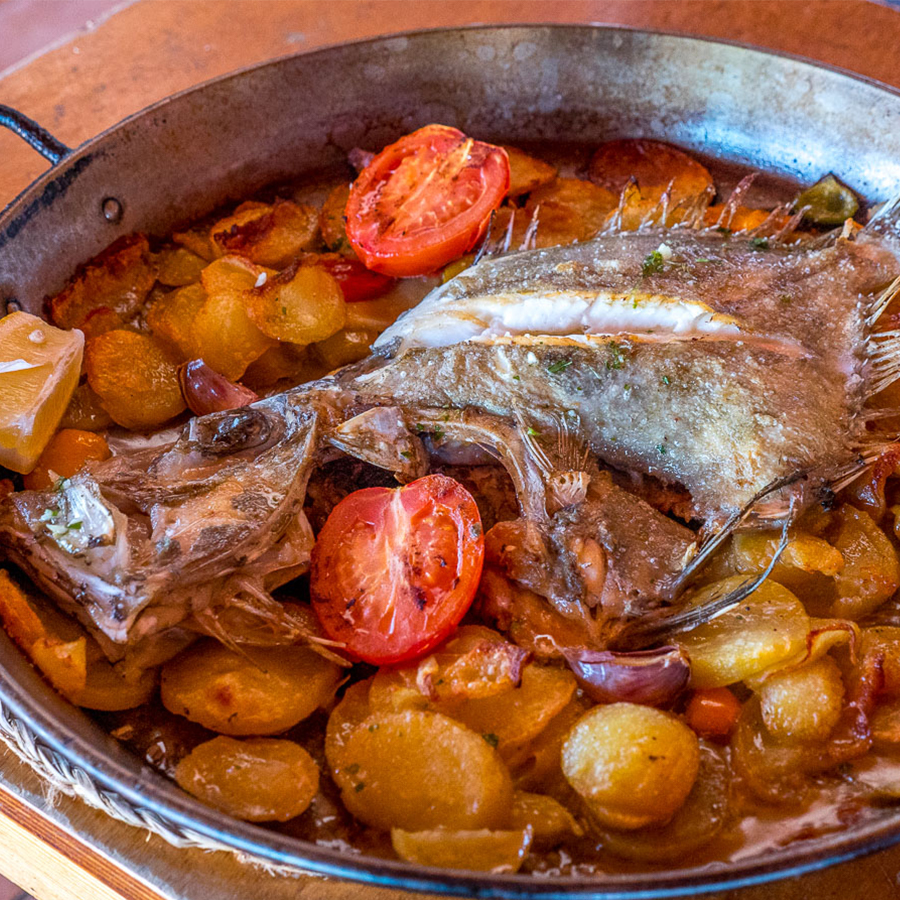 [su_row]    [/su_row]
The most popular varieties of fish include: Rotja (scorpion fish), mero (grouper), gallo San Pedro (John Dory), sirvia and rape (monkfish). Other smaller yet equally tasty varieties include sarc (banded bream), raors (razorfish), salmonete (red mullet), besuguete (sea bream), arañas (spotted weaver), serranito (painted comber) and gerret.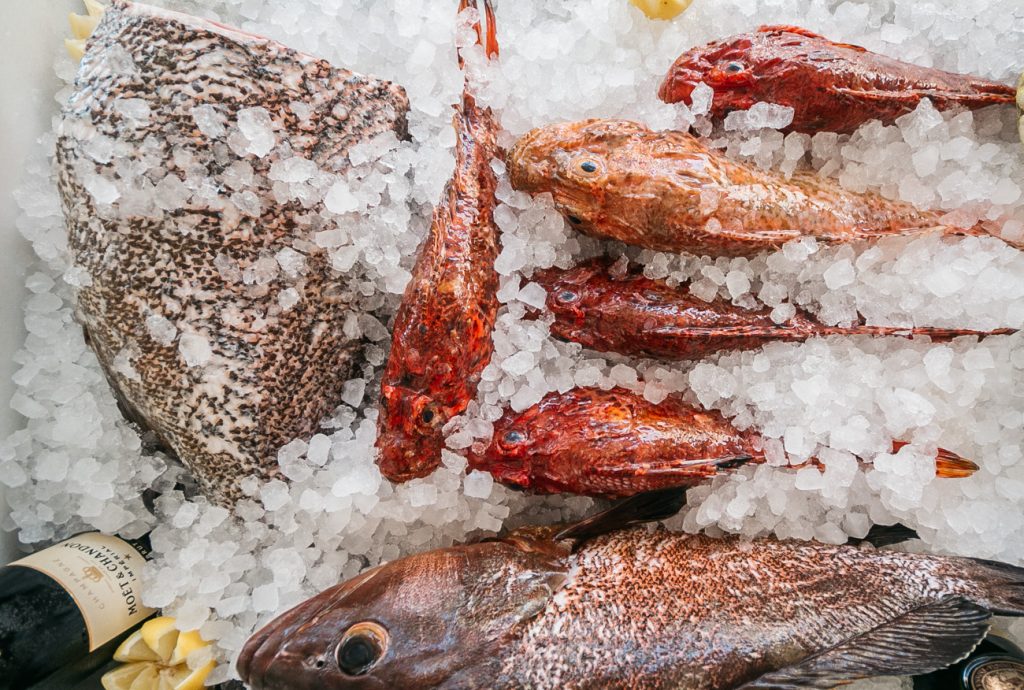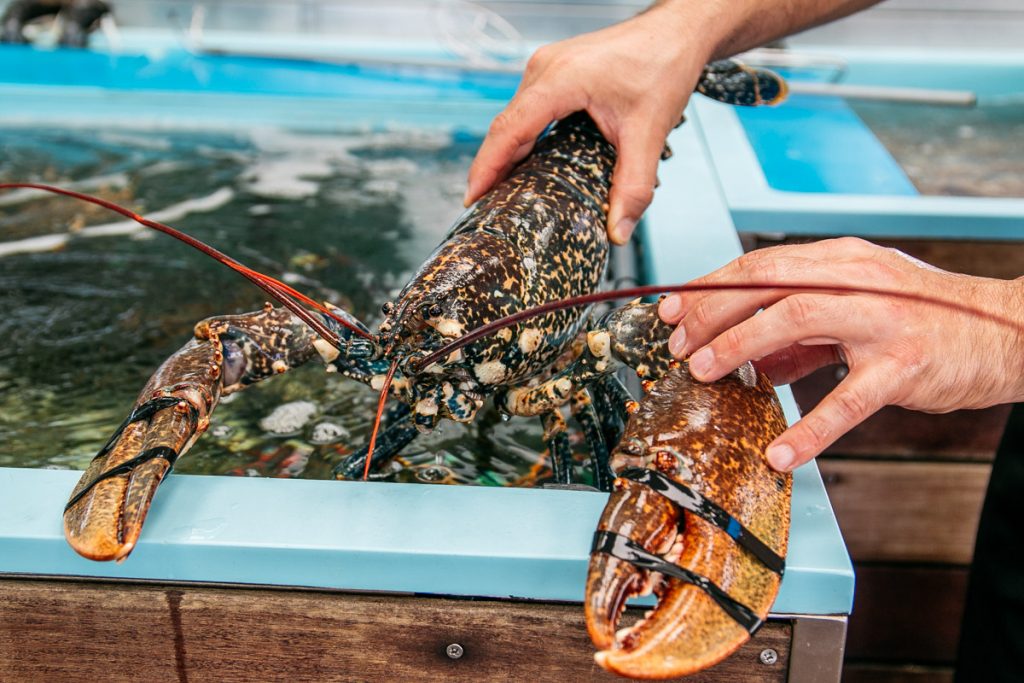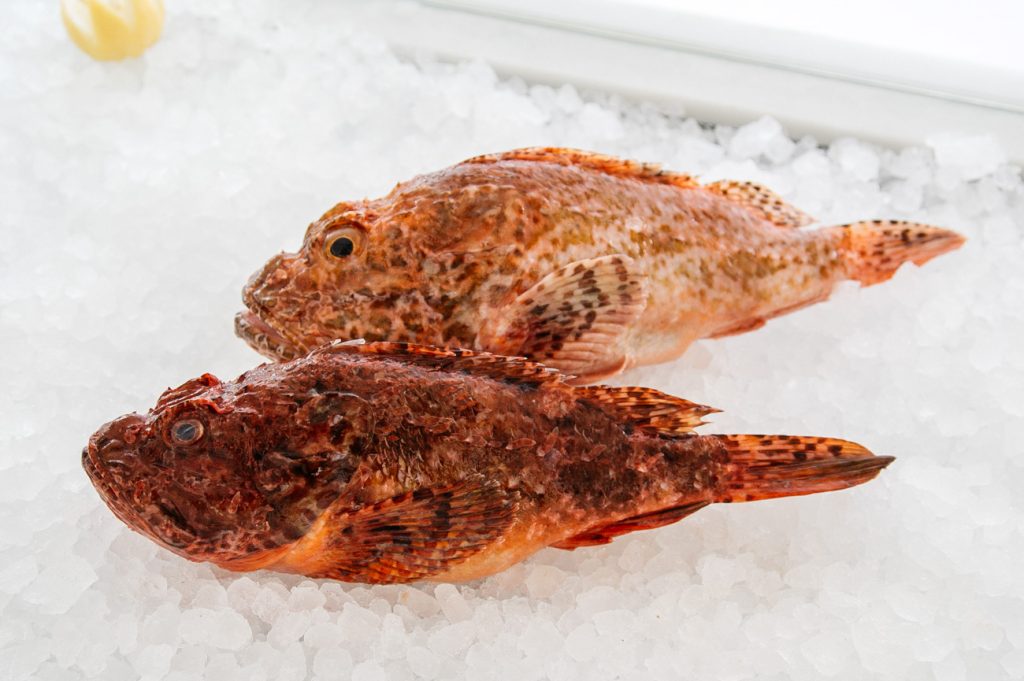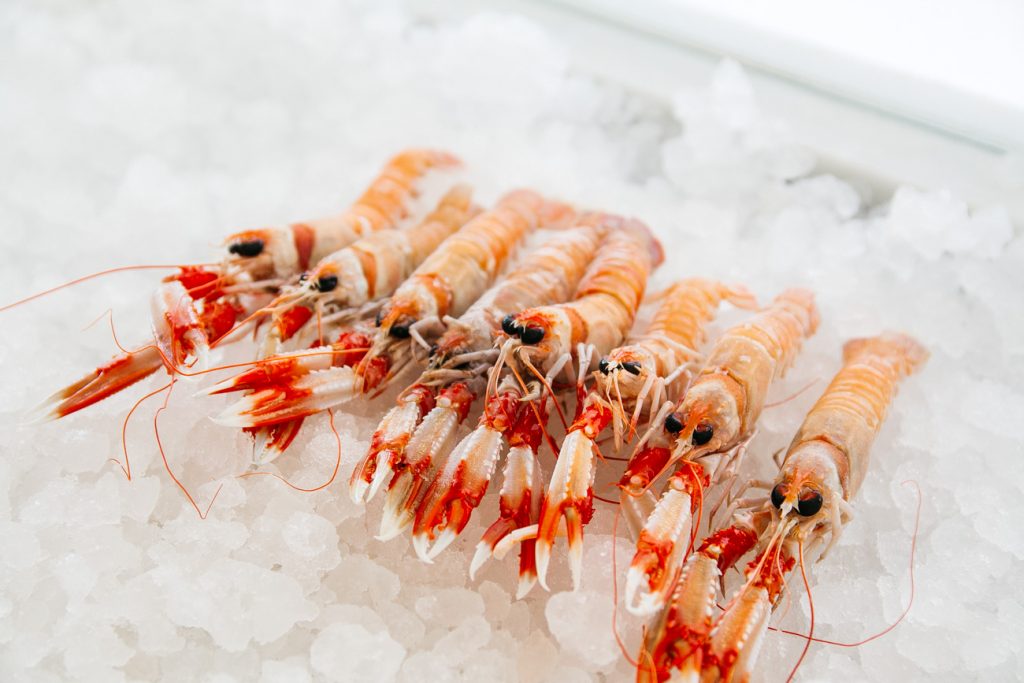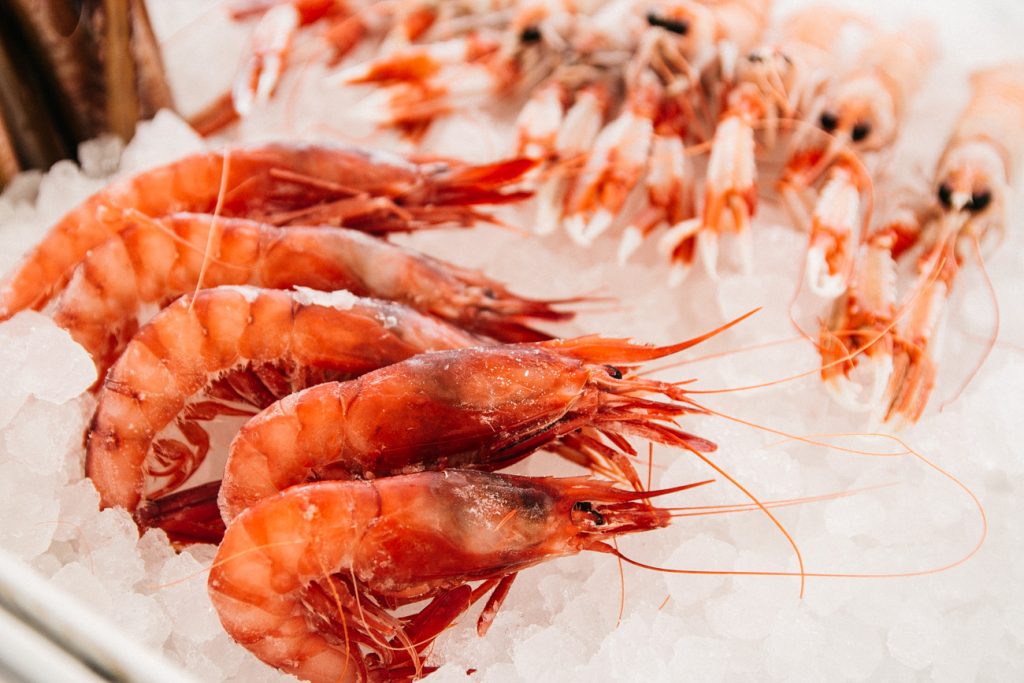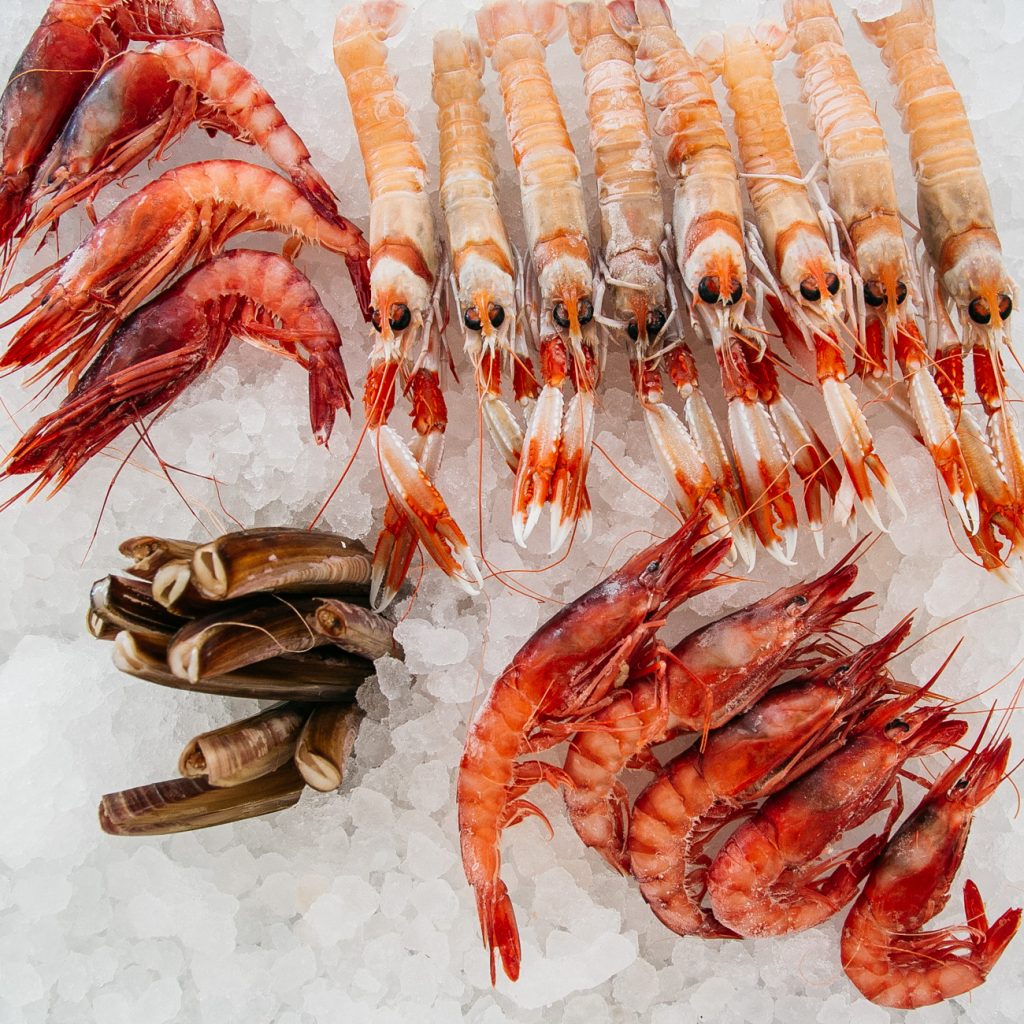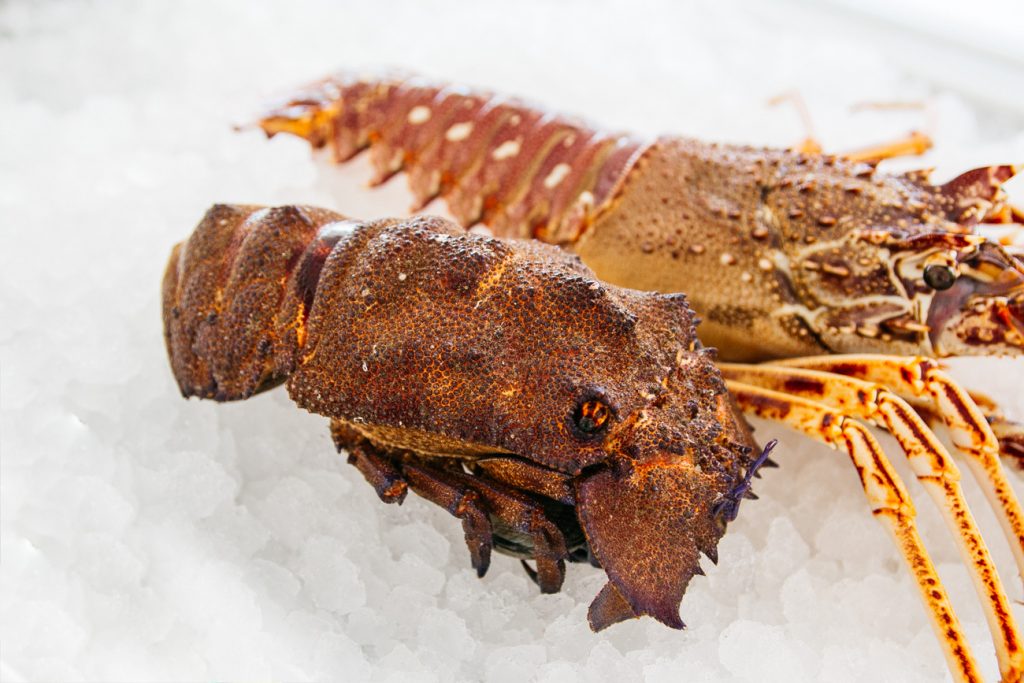 [su_row]    [/su_row]
Shellfish is also abundant along the coasts of Ibiza and Formentara where we find: Spiny lobster, crayfish, langoustine, clawed lobster or pink shrimp amongst others and all of the highest quality.
To identify the origin and authenticity of these local products the small guilds of the island of Ibiza were brought together under one brand known as Peix Nostrum. This hallmark guarantees product, proper catch, sustainability and proper procedures for sale.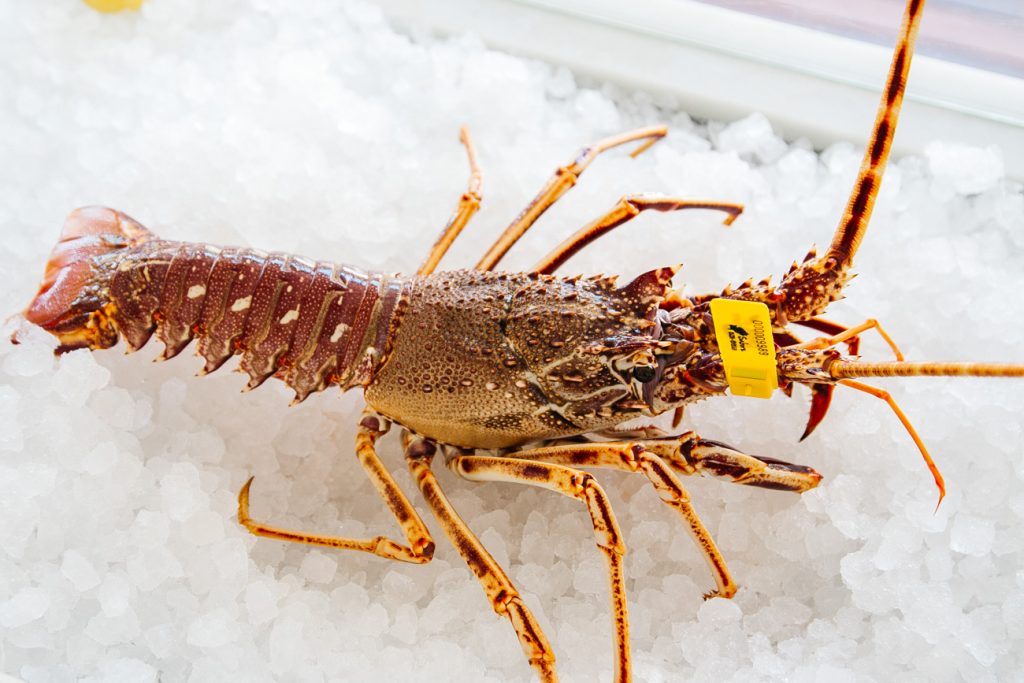 Fish in brine
Brining was originally a process for preserving food. The technique is still used today so that fish can be enjoyed at any time. In Ibiza there is a long tradition of eating fish preserved in brine. This is a very typical dish in the homes of fishermen and is often eaten on days of celebration such as the hog butchering feast. The fish most often prepared in this way are gerret, gató (catfish), sardines or mackerel and they are prepared using garlic, flour, lemon, parsley, olive oil, vinegar, pepper and bay leaf.
Fried octopus or squid
Octopus is one of the star ingredients in Ibizan cuisine. Octopus is a true delicacy when fried. Fried octopus is one of the most typical tapa dishes on the island of Ibiza and it is becoming increasingly popular as a main course dish in the island's top restaurants. This recipe evokes old Ibiza and, needless to say, a top quality product is a must as in any seafood dish. The recipe is simple, consisting of fried onion, garlic, red pepper to which cooked octopus and potato are then added. The mix of flavours is truly authentic.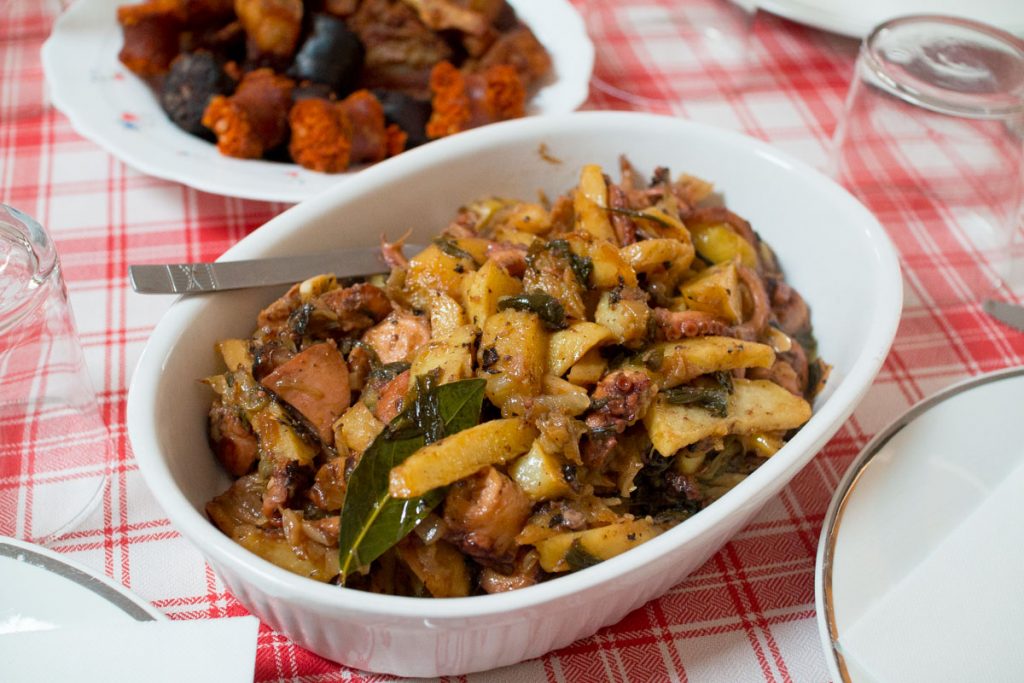 There is also a version with squid, called Frita de Calamar. This is prepared in a similar way but the squid is cooked directly in the sofrito.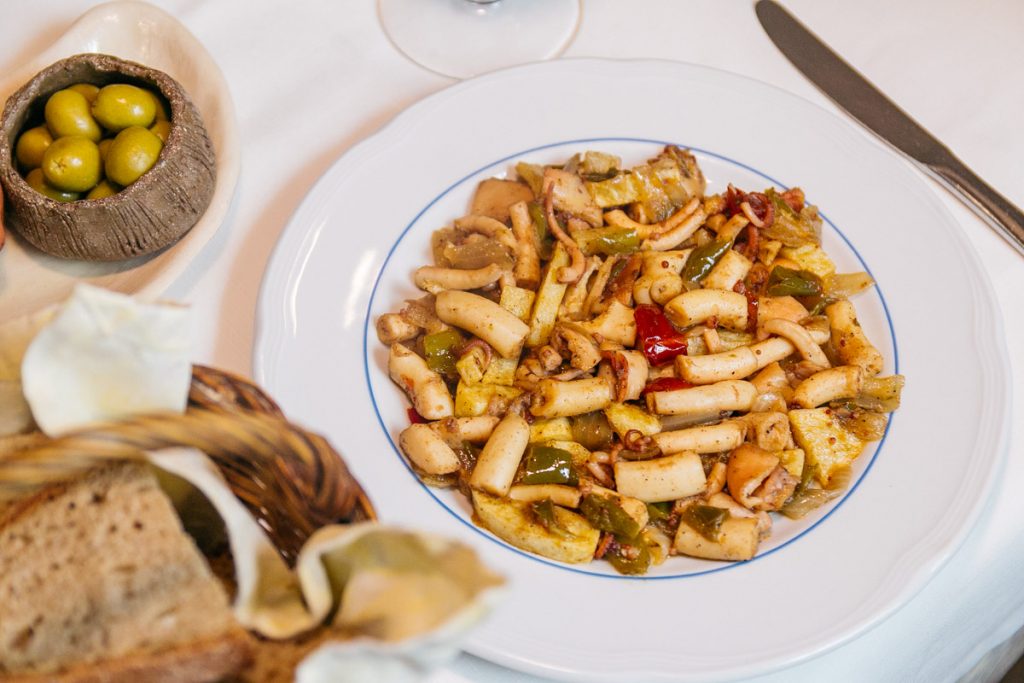 Rice dishes
Rice is an important ingredient in Ibizan cuisine. Combined with locally caught fish it becomes one of the most exquisite delicacies to be enjoyed in a good seafront restaurant. There are 3 ways in which rice is served: dry, brothy and cooked to a point then left to rest.

If rice is dry then we know that although no broth remains, it has been cooked in fish broth from which it gets its very intense flavour. Dry rice is cooked with all types of fish and seafood, clawed lobster, sea cucumber, as "blind" rice (no shells) or arròs a banda like in Bullit de Peix.
On the other hand we also find brothy rice recipes such as arroz marinera (rice with seafood) or arroz de bogavante (rice with lobster), which is a typical winter dish or encadallet rice which is one of the ways that rice is most often served in Ibizan households. Encadallet is the term given to rice when it is midway between dry and brothy.