The Posidonia Oceánica
One thing that surprises everyone who comes to our coast for the first time is how clear the sea water is. And, as many of you already know, this is thanks to the presence of the wonderful Posidonia plant on the Balearic coasts.
The Balearic Islands and Pityusic Islands (Ibiza, Formentera and other small islets) are home to some 750 km2 of Posidonia meadows growing on sandy seabeds and, in some cases, on rocky seabeds. These meadows produce large amounts of oxygen and organic matter.
The archipelago's meadows are found in diverse locations, but the main concentrations are found in Ses Salines d'Eivissa i Formentera, in the south of Formentera, Sant Antoni de Portmany, in the south of Menorca, the bays of Alcúdia, Palma and Pollença on the island of Mallorca, and Cabrera.
Ses Salines d'Eivissa i Formentera
Indeed, the seagrass meadows of Sant Josep (in the Salines d'Eivissa i Formentera natural park) were declared World Heritage by UNESCO in 1999. In that same year such emblematic sites as the Phoenician settlement of Sa Caleta were also declared World Heritage Sites.
But, what exactly is Posidonia? Is it an algae? What is its function?
1. HABITAT
Posidonia or seagrass meadows is a species in the Mediterranean Sea that is not found anywhere else in the world. It can be found at depths of up to 30-40 m. depending on how clear the water is.
2. BIOLOGICAL DATA

– Description
Posidonia oceanica is a higher plant species and it differs from algae in that it has leaves, stalks and roots as well as flowers and fruit. Its flowers indicate that this plant was once a land plant that adapted to living under the sea as, under the sea, flowers do not need to attract insects for pollination to transport pollen.
Posidonia has flat ribbon-like leaves that are approximately 1 cm wide and 10 to 150 cm long depending on the season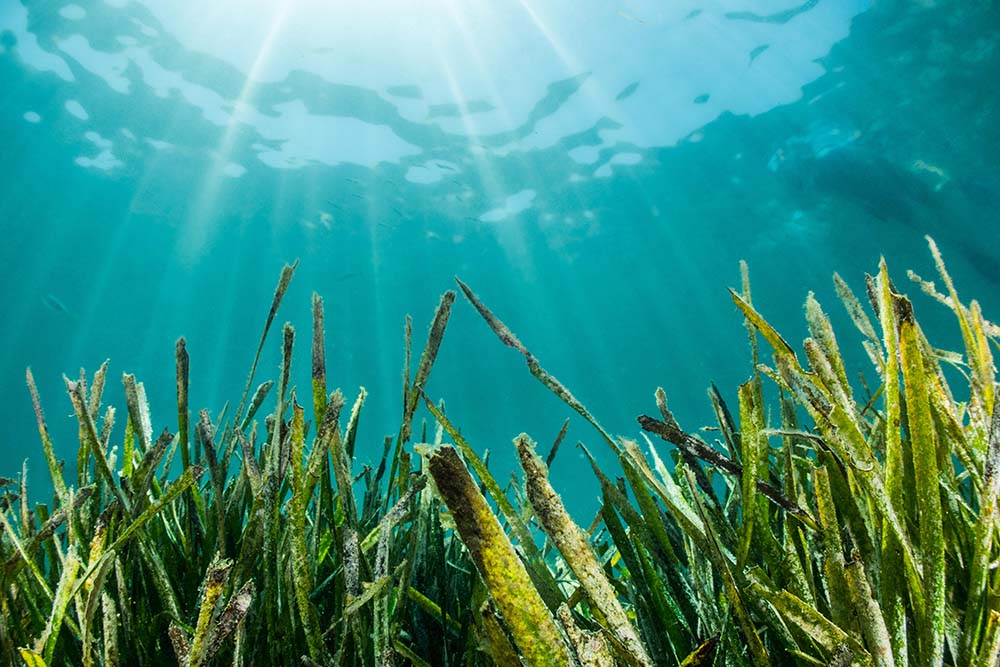 Posidonia oceanic tufts grow into extensive underwater meadows constituting very stable and long-living structures (the meadow located in the Ses Salines d' Eivissa i Formentera Natural Park is one of the oldest living things in the world)


– Annual cycle
Posidonia oceanica has a clear annual growth and leaf-loss cycle.In spring, Posidonia leaves start to grow faster as the temperature rises. When summer arrives, the leaves reach their maximum length, and are progressively colonized by organisms and algae that adhere to them forming a dense layer of epiphytic organisms.
The plant loses its leaves in autumn as the water temperature decreases and the frequency of storms increases.
During winter the plant has only a few leaves that are short and young. The low winter temperatures mean that the plant's growth is minimal during this period until the arrival of spring again.
– Reproduction
Posidonia oceanica is a marine phanerogam and therefore reproduces sexually through flowers and fruits. The flowers, peculiar and inconspicuous, are hermaphroditic (they have male and female sexual organs).
Posidonia oceanica usually reproduces asexually. It reproduces through runners (horizontal growth shoots) that form a meadow. Asexual reproduction has also been observed from whole tufts ripped out during storms which take root in a new location when the required conditions are met.

– Characteristics and importance of the meadows

Posidonia oceanica meadows occupy large expanses of the Mediterranean coastline, playing an important role in sedimentary dynamics (by holding the sediment in place with their roots). This helps maintain the balance of these sediments by forming barrier reefs, maintaining the coastline and protecting our beaches from erosion.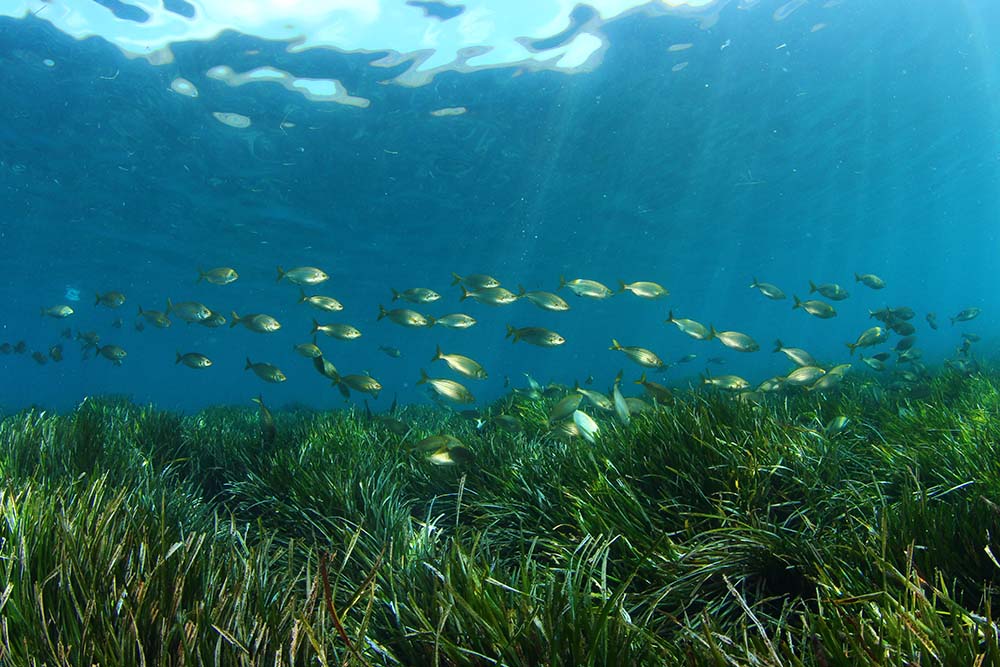 They are also important areas in terms of oxygen production and in providing breeding grounds and shelter for many animal species.
On the other hand, the meadows work as large filters, helping to keep the seawater clean and clear.
BENEFITS OF POSIDONIA
It filters the water, keeping it clean and clear.
It protects beaches from erosion and protects the coastline.
It also helps to reduce marine hydrodynamics and thus reduces erosion caused by it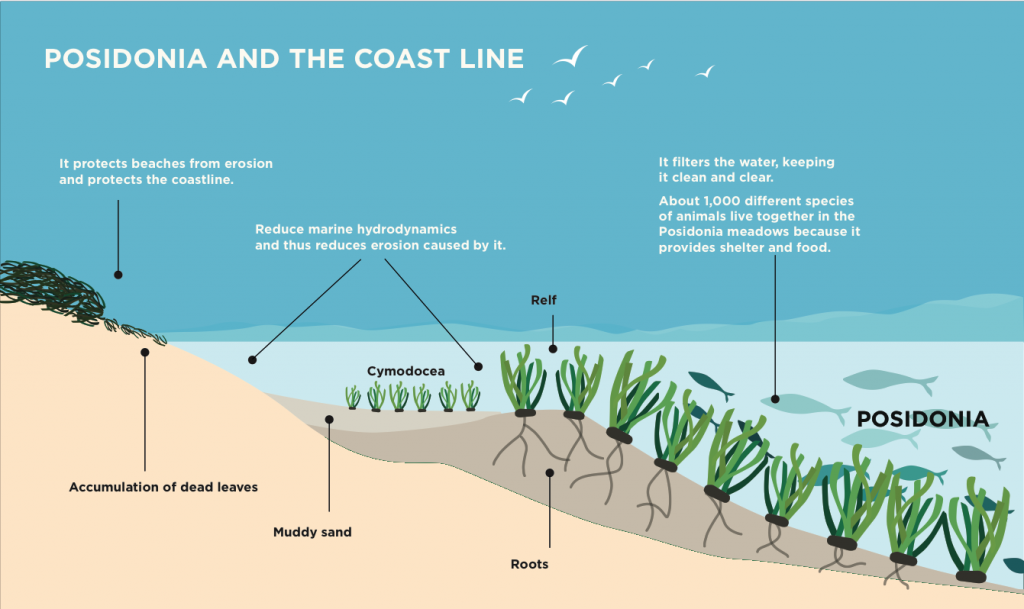 3. THREATS
Seagrass meadows are threatened in a number of ways. On the one hand the plant is seriously affected by the level of transparency of the water. This means that increased turbidity, whether caused by resuspension of sediment or spillage, adversely affects the meadow.
On the other hand, as a species that grows in shallow water, it is often affected by boat anchoring. Lack of awareness among skippers and fishermen means that this is a common occurrence, causing the direct uprooting of the plant.
Several authors cite the negative effect that the appearance of invasive algae species in Mediterranean waters, such as Lophocladia lallemandii or Caulerpa racemosa, has on the seagrass meadows.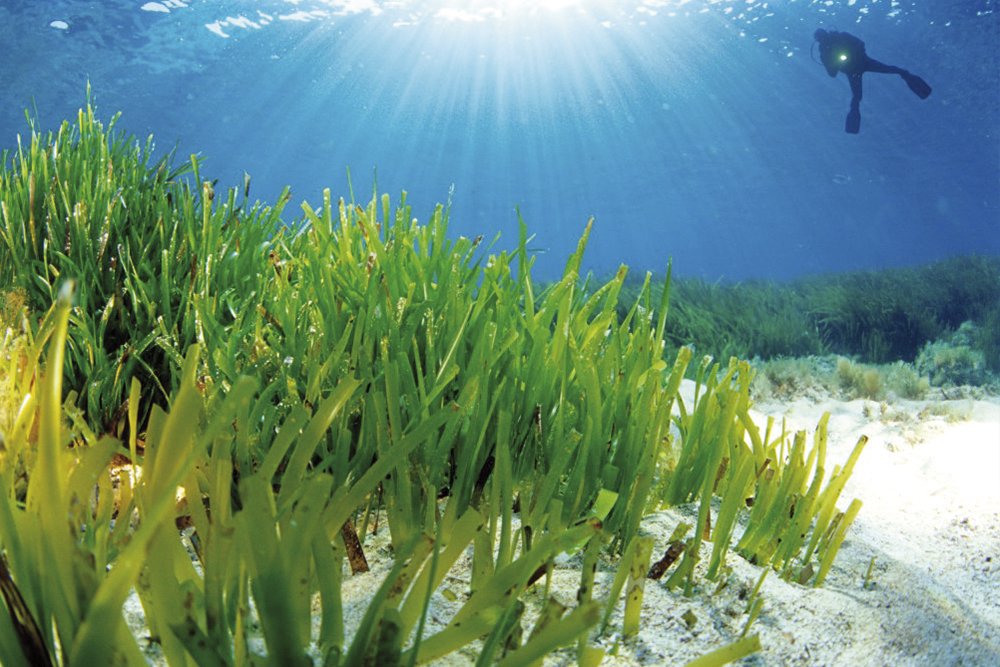 4. INTERESTING FACTS

In the past, Posidonia leaves were used as insulation on the roofs of farmhouses, as bedding for livestock, and to pack fragile materials.
– Its potential for biogas production is currently being explored.
– It is estimated to be about 100,000 years old (it grows between 1 and 2 centimetres per year).
– One square metre of meadow can produce 14 litres of oxygen per day.
– About 1,000 different species of animals live together in the Posidonia meadows because it provides shelter and food.
5. FOR MORE INFORMATION ABOUT POSIDONIA SEE:

In order to raise awareness of its importance to residents and tourists on the island, the Ibiza Town Council launched 'Vive la Posidonia' (long live Posidonia), a project to raise awareness and provide information about the importance of the seagrass meadows and how to protect them. The project includes activities that combine art, nature and gastronomy.
SAVE POSIDONIA PROJECT FORMENTERA
Save Posidonia Project is a project born from the commitment of the Island Council of Formentera (Balearic Islands) to promote sustainable tourism and its aspiration to launch an action plan to raise funds that will be used exclusively for the conservation of the marine plant Posidonia oceanica. The aim is to raise awareness about the vital importance of Posidonia on Formentera in the present and especially for future generations.