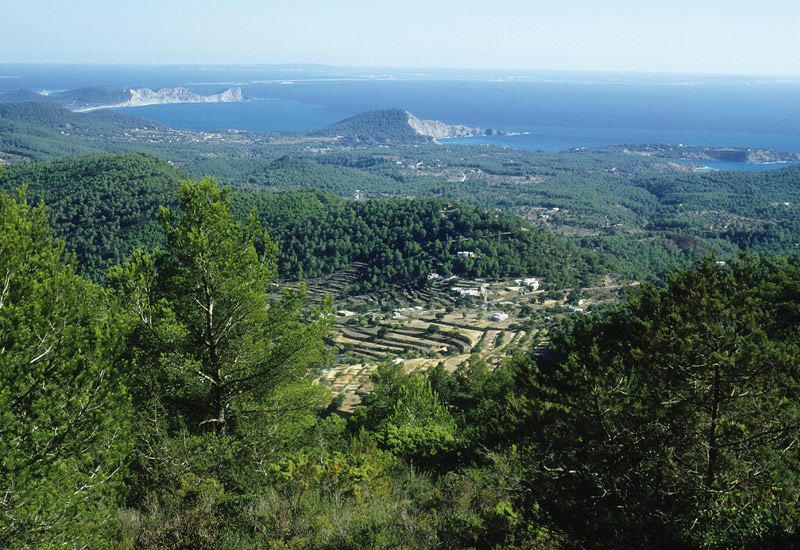 Touring around Sant Josep
Today we woke up fancying a good walk. And from our blog we propose an interesting route to get to know the most interesting places of this Ibicenco municipality that sure you'll love, the Sant Josep area.
We'll start the route from the famous village of Sant Josep de sa Talaia, and why not gaining energy with a good breakfast? In the centre of Sant Josep there's many different snack bars and cafeterias, from the most authentic to more modern ones, and where you can relax and enjoy this beautiful village. Without moving from the centre, you can visit its church, an architectural gem with a slightly fortress touch. Painted in the characteristic white colour of Ibicenco houses. It has a rectangular front porch with three arches, a main nave with a barrel vault and side chapels.
After this cultural tour, we head to Las Salinas beach (Ses Salines). The road that leads to the beach gives us an advance of the beauty of the place we are about discover. Las Salinas was declared a Sea-Land Nature Reserve in 1995 and since 2001 it has the designation of National Park, composed of almost all the southern tip of Ibiza, the north part of the island of Formentera and the islets that there in between the two islands.
When you reach the end of the road you can enjoy the spectacular views of Las Salinas, a beach characteristic for its white sand and crystal clear waters. Walking along the beach is a delight for the senses. Furthermore, it is an ideal beach to enjoy with the whole family, as the water barely covers us.
And if what you like is to have a drink or an ice cream you can go to any of its many famous "chiringuitos" (beach bars) opposite the seashore, where you can also have something to eat, such as a good paella. Ses Salines is a beach of contrasts and lots of atmosphere. Very Ibiza style.
Anyhow, if you prefer to change places for eating, you can do so in one of the beaches of Ibiza's western coast, such as Cala Bassa and Cala Conta (Platges de Compte), two idyllic crystal clear water beaches that you'll fall in love with. In any of these two beaches you'll find many different options where you can taste Ibizan typical dishes as well as marine cuisine dishes, such as paellas, "fideuàs" (noodle paella), traditional fish stews, fresh fish, shellfish and seafood, etc.
Plus, watching the sunset in Cala Conta is a must for those who visit Ibiza. Simply amazing.
And for ending the day we suggest you visiting Sant Agustí, one of the most authentic villages in Ibiza. It seems like time doesn't pass by for this charming place. There are a few bars and restaurants where you can enjoy the island's cuisine with options and suggestions for all tastes and budgets.
Hope you enjoyed our route through the municipality of Sant Josep de sa Talaia. See you soon!