Ibiza Family Experience
What is Ibiza Family Experience?
Every year more families with children come to the island of Ibiza to enjoy themselves and even repeat the experience. Therefore, the Council of Ibiza has created the «Ibiza Family Experience« Project, with the aim of showing that Ibiza is an ideal destination for your holidays.
Coming on holiday to Ibiza with the family and looking for something to do?
Ibiza is an appealing tourist destination all year round because of its beautiful natural environment and its variable choice of hotels, restaurants and leisure activities.
Polpy and Sabina are the mascots of this project that will accompany us on this magical adventure.
PADDLE BOARDING
Cala Vadella is a wide beach with a family atmosphere, surrounded by beautiful cliffs that make it an authentic natural harbour, so it is sheltered, and its waters are always calm. The courses will take place within the cove once we leave by the channel. We remain near the coast for our own safety and so as not to inconvenience other swimmers and boats.
The project consists of giving Paddle Boarding classes with specialised instructors to young children, who can be accompanied by their parents, as two people can ride our paddle boards.
All participants must fill out a registration form and if the children come alone, they must bring an authorisation from their parent or guardian. The minimum age recommended for children to come alone is 6. It is obligatory to know how to swim.
Paddle Boarding is an activity suitable for all ages.
Reservations
– Email: supyogaibiza@gmail.com
– Phone/WhatsApp: (+34) 654 013 347
You can also come to our Paddle Boarding Centre in Cala Vadella from 10:00am – 6:00pm.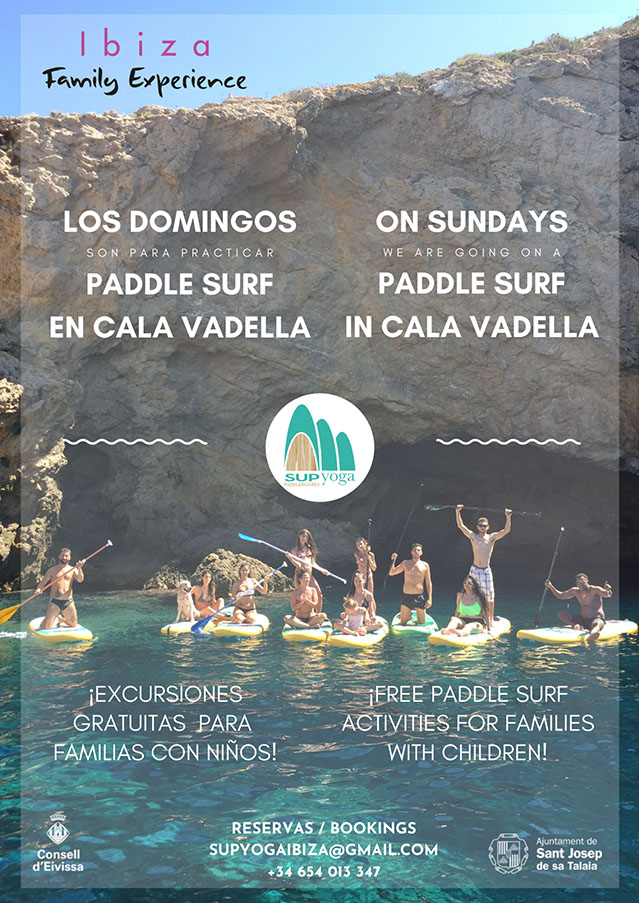 BICYCLE
Bicycle Treasure Hunt
Families, take note of this great idea! The San José Town Council has launched a very original and entertaining activity for families.
Parents and children will have the chance to take a bicycle trip to discover some of the most beautiful hidden corners of the island. We are talking about the family outing "Bicycle Treasure Hunt", a ride through the beautiful scenery of the Las Salinas Natural Park, suitable for children of all ages.
The idea, intended for both tourists and residents of the island, is to offer a new, unique and highly entertaining experience, which includes a bike ride through this beautiful area along with activities and games to liven up the trip.
The games take place at each stop along the route, although you will also be singing and having a great time while we are pedalling. At each stop, families will have to go on a unique and original treasure hunt, which will allow them to discover the mysteries and beauty of the Las Salinas Natural Park; games consisting of questions and drawings that will allow them to get to know the wide diversity of birds and marine species in the area.
In addition, it will also help both adults and children to become environmentally aware while learning numerous anecdotes and curious stories about the past and about the island's former inhabitants. To recover your strength, a delicious and healthy picnic of fruit will be served halfway through the trip.
The trip, which lasts about 3 hours, starts in the car park in front of the Grand Palladium Hotel at Playa d'en Bossa, continues to the Sa Sal Rossa Tower, and to the San Francesc church, and ends back at Playa d'en Bossa with a swim in the sea for those who feel like it, weather permitting.
There can be a maximum of 20 participants in each activity and it is designed to suit all ages, as there are also children's bikes and even baby seats.
The bicycles are, of course, also included.
The trip takes place every Saturday during the summer season. The times are from approximately 10:30 a.m. to 1:30 p.m.
The activity is bilingual and is offered in English and Spanish simultaneously.
There is a limited number of places available. To book yours or ask for more information, contact +34 608 557 450 by Whatsapp or send an email to excursion.familiar.en.ibiza@gmail.com.
Discover all the secrets of one of the most beautiful spots on the island!
YOGA ON THE BEACH
Exercising on the beach at sunrise in a natural environment as amazing as Ibiza is one of the luxuries that can be enjoyed by visitors to this beautiful island.
In this setting, yoga classes give you the opportunity to achieve a better quality of life, training the body and mind to attain a greater balance and harmony with ourselves, with the environment and with nature.
During the yoga class, you will strengthen your muscles, give flexibility to your joints and achieve a greater mental calm, making you feel strong, flexible, agile and more vigorous in your daily life.
The classes are for everyone and for all ages, and you don't need any experience… you just need to want to feel good and take the first step to achieving it.
We look forward to seeing you on the mat!
Duration of the activity and groups:
The yoga classes will be on TUESDAY in Cala VADELLA and on SATURDAY in Cala TARIDA, at 8.30 am. They will last 75 minutes and are suitable for everyone. Places are limited to 12 students per class, so you must book in advance by sending an email to vanesacantobodymind@gmail.com or by sending a message (DM) to the Instagram account @vanesacanto_bodymind.com
What does the class include?
Each student will have a mat, a yoga block and a yoga belt. All the material will be disinfected before and after each class. If you prefer, you can bring your own mat (recommended).
What should participants bring?
It will be necessary to bring: Comfortable clothes, sun protection, water and a towel or sarong. We also recommend bringing sunglasses and a hat or scarf to protect your head from the sun.
Dates:
4/7/20 to 31/10/20.