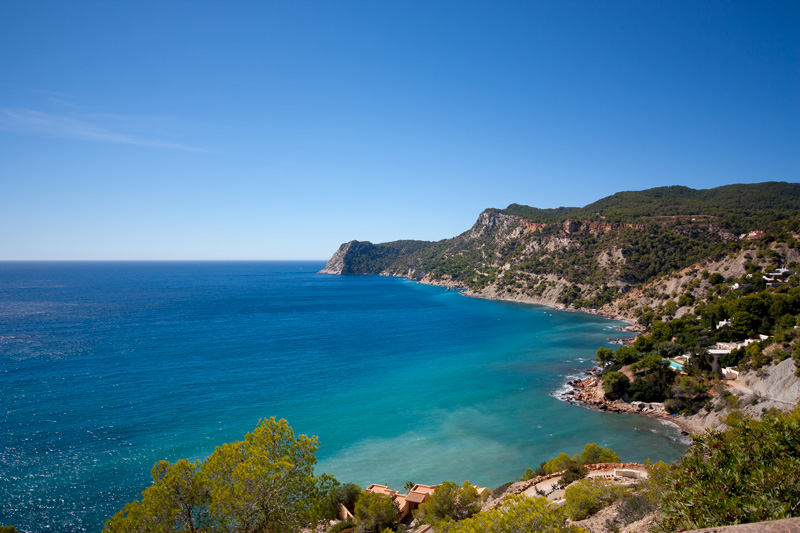 South-West area. Three coves with a marine touch
Today we'll take you through a virtual tour of the southwest of the Sant Josep area, where we'll visit the charming village of Es Cubells and we'll also take a walk through some of the most beautiful bays and coves in the area: Es Torrent, Es Xarco and Ses Boques..
Es Cubells is one of the smallest villages of the island of Ibiza. The urban core is formed by a large whitewashed church, two bars, a grocery store and a cultural center. Most of the population of Es Cubells has always lived in the countryside, where the typical rural landscape, the quiet island life and the cultivation of small plots is still preserved. However, the landscape surrounding this small place are amazing: Es Cubells is located on the edge of a cliff, where the views are breathtaking and beautiful. The sea and the extensive Ibiza countryside merge into a scene that will not disappoint you.
The village of Es Cubells is ideal for enjoying an appetizer and the local cuisine. With its peaceful atmosphere is an ideal place to visit with family or friends. Strolling through the village area and its surroundings is a great way of enjoying the island of Ibiza's nature.
But, if what you like is to enjoy the sun, beach and tranquility surrounded by nature, Es Xarco is your place. A small marine atmosphere cove with many traditional fishermen's huts, uncrowded and where you'll find peace. Ideal for couples or friends, yet not for children, because the stones and rocks on the inside of the water may be a problem for the smaller ones. Water sandals may allow you to enjoy better this cove. It's also a great opportunity for trying the local seafood cuisine of Ibiza. There's a restaurant where you can delight yourself with traditional dishes.
Another beach for relaxing and enjoying the marine atmosphere of the area is Es Torrent, located in the Bay of Porroig. It's a hidden cove, sandy on the outer part and pebbles on the inside part of the shore. Usually not very crowded yet its surroundings and landscape are the most beautiful in the area. You'll also find a restaurant where you can sit and relax right on the beach sand while having an appetizer or enjoying a typical fresh seafood dish.
Ses Boques is another cove where relaxation and peacefulness are guaranteed. The rugged landscape surrounding it make it a very special cove for enjoying nature and calmness. In the beach bar of Ses Boques you can relax with a cold beer and you can also try the amazing local fresh fish or one of those delicious paellas that identifies Ibiza so much.
We hope you enjoyed this tour of the southwest area of Sant Josep. Quiet places, unspoilt nature and local cuisine. What more can we ask for?
See you soon!