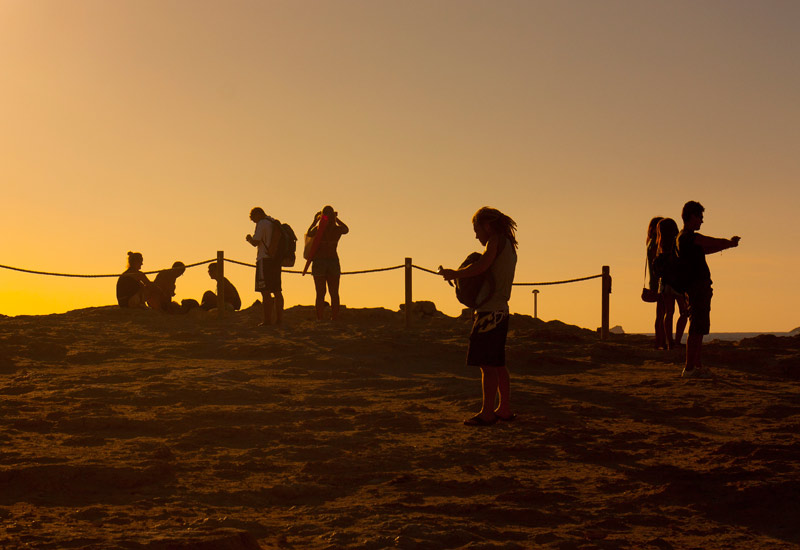 A fabulous autumn sunset in Sant Josep
Autumn is a wonderful season to enjoy the island of Ibiza in a different way, such as the spectacular sunsets you can watch in the Municipality of Sant Josep de Sa Talaia.
And one of the best places to enjoy it is in the beautiful beach of Cala d'Hort. This small cove allows you to enjoy during the colder seasons of a magical sunset, with the silhouettes of the islands of Es Vedrà and Es Vedranell in the background. It is an ideal place for amateur photographers and nature lovers.
Another suggestion for enjoying the sunset in Sant Josep de Sa Talaia is at the beach of Cala Conta (Platges de Compte). Actually, this beach is a set of small coves connected by natural viewpoints from where you can watch the wonderful sunsets of Ibiza. From there you can also see the islands of Es Bosc, Sa Conillera, Ses Bledes and S'Espartar. Without any doubt, watching the sunset from any of these coves is an unforgettable experience. Cala Conta is simply charming.
The third suggestion, with a more homely touch, is Cala Tarida. A beautiful fine sand and crystalline water beach, with small coves separated by islets along the beach. Emphasize its relaxed and friendly atmosphere. It's a great place to enjoy the sunset with friends, with your partner or your family. A beach with sunsets for everyone.
To finish we propose another place for enjoying the Ibizan sunset, the Port des Torrent area, near San Antonio (Sant Antoni de Portmany). A perfect place for taking a walk and enjoying the different things around. Family and relaxed atmosphere. This place allows you to enjoy a long walk along the seaside as the sun says goodbye to let the night come.
Hope you liked our ideas and suggestions for enjoying great sunsets in Sant Josep de sa Talaia. See you soon with more suggestions.