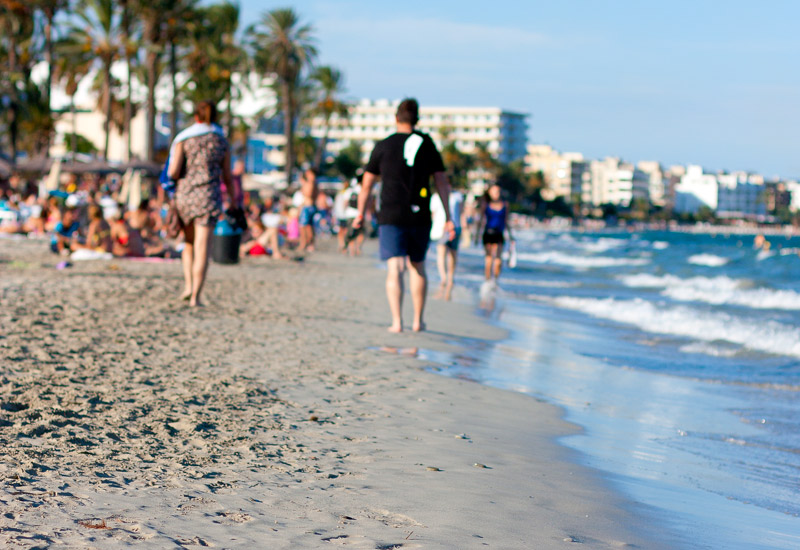 Playa d'en Bossa, nice atmosphere all the time
Playa d'en Bossa is the largest sand beach in Ibiza and one of the most visited by the tourists who choose our island as their holiday destination.
In Playa d'en Bossa there's a large number of nice hotels with fantastic sea views in the most pure Ibiza style ambiance. On the beach you can experience the incredible party atmosphere that many visitors look for on the "white island" every summer. Along the coastline you'll find some of the most famous restaurants in Ibiza, offering good food and great music where you can enjoy a cocktail right on the sand lying on a comfortable sunbed while listening to great chillout music to say goodbye to the day and welcome the night. As well, on the beach, you can also sunbathe and relax right by the seashore on more quiet spots of the beach.
Playa d'en Bossa is known for being a legendary nightlife meeting point for lots of people from all around the world. A place where you can find everything that defines Ibiza: beauty, cosmopolitan atmosphere, electronic music…
In Playa d'en Bossa is where some of the most famous Clubs and trendy places known all over the world are located. And where the number one DJ has it's own show. Let yourselves be carried away by the music, the amazing atmosphere and simply enjoy the Ibiza nightlife.
But instead, if you prefer enjoying the daytime, Playa d'en Bossa is a fantastic place to wander around, do some shopping, get some souvenirs and have a cold drink and a snack in some of the nice terraces and snack bars that you'll find. Plus, on the other hand, if you're a sporty person, the area offers all kinds of watersports you can practice.
Also, during the summer, every evening they set up a market where you can buy clothing, costume jewelry, handcrafted jewelry, leather goods, etc. An excellent choice for those who prefer enjoying Playa d'en Bossa during the daytime and of the quiet and relaxing side that it also offers its visitors.
Without any doubt, Playa d'en Bossa is a place of contrasts with many different options for all tastes, ages and budgets. Located near Ibiza town and easy to get around by foot and by public transport. For all this and much more, Playa d'en Bossa is an excellent choice for spending your holidays.