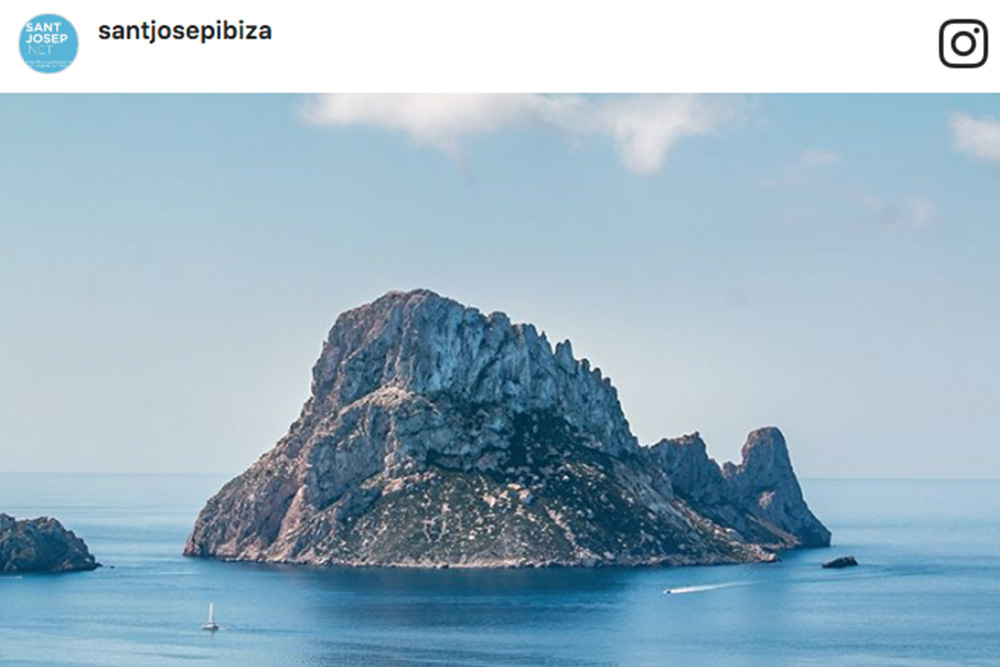 Be it because of its climate, its idyllic beaches, its charm, its cuisine, its atmosphere or its many contrasts, Ibiza is one of the most photographed islands in the world, and we know why. Some of the island's prettiest and most Instagram-worthy spots that showcase Ibiza's unrivalled natural beauty are in the municipality of Sant Josep.
Just to whet your appetite here is a selection of the top 12 places to Instagram on your holiday in Sant Josep!
1. That must-have skyphoto.
This photo is perhaps the one guaranteed to evoke the most joy or sadness – depending on when it is taken. That moment of joy when, from the window of your plane, you can just about make out the coastline, the beaches, Ses Salines, Es Vedrà. Pure magic! But of course, the feeling is quite different when the plane is bringing you home, while you are busy planning your future visit to beautiful Ibiza.
2. Churches
The island's churches are known for their beautiful architecture with white-washed walls, simple design and beautiful locations in incredibly stunning natural settings. They embody the most rural side of Ibiza, which is why hundreds of couples decide to celebrate their weddings here – in the knowledge that the very essence of their special day will be captured in these churches.
Take a look at Sant Josep's beautiful churches on our website.
3. "Mediterranean-style"
The sense of freedom you feel contemplating the immensity of the Mediterranean Sea is something that cannot be overstated. It goes without saying then, that contemplating this beauty from a sailboat on the coast of Sant Josep or from a Llaüt, the typical boat used by fishermen in the Mediterranean, should be one of the must-dos on your list. This is a unique and very special experience indeed. Plus, the photos make for a unique keepsake!

4. Es Vedrà and Cala D' Hort
Cala d' Hort is one of the island's best-known beaches thanks to its beautiful natural surroundings and crystal-clear waters, but also because of the impressive islet of Es Vedrà that hugs its horizon. This giant rock stands more than 380 metres high and forms part of the nature reserves of Es Vedrà, es Vedranell and the Western Islets. For more information click here.
5. The colourful Es Bol Nou
Reddish with intense blue hues: The Es Bol Nou area is defined by its vibrant colours. Its reddish clay walls create a very photogenic contrast. Watch the video
Watch video.


6. Platges de Comte: one of the most Instagrammed places in Ibiza
On social networks, Platges de Comte features as a top location for selfies and landscape and underwater photos. With its natural rocky landscape, this is one of the island's most picturesque beaches. A photo here? An absolute must!
7. #SesSalines.
Located inside the Ses Salines Nature Park is Ses Salines beach. This long sandy beach boasts fine, white sand and crystal-clear waters.

8. Nature.
Another must-do for your list has to be one of Sant Josep's many beautiful walks. This is nature in its purest state. Click here to see some of the most beautiful walks in Sant Josep.

9. Conquer the island's summit and immortalise the moment.
The highest point of the island is the summit of Sa Talaia: at an altitude of 475m, the mountain offers spectacular panoramic views of the municipality, the coast and Formentera. You can get there on foot or by car (the former comes highly recommended), starting from the village of Sant Josep. Check out the route here. Breathing this pure mountain air is priceless.

10. Underwater.
As mentioned at the beginning of the post, Ibiza's waters are so clear that you can get some spectacular underwater shots. Why not put that new waterproof camera to work capturing some special underwater moments? Maybe you'll be lucky and catch some fish!
11. Watchtowers, a real pirate photo.
The watchtowers on the coast of Sant Josep were built to protect the coasts against pirate invasions. For more information about these watchtowers click here.

12. Sunsets. The #top photo.
Leaving Ibiza without a sunset photo is like going to Paris and not taking a picture of the Eiffel Tower! A sacrilege! Ibiza treats us to incredible sunsets every day as the setting sun leaves the sky tinged pink and orange. A must-have photo.
Otros artículos que te pueden interesar: