TIME: 2.30 Hours
LONGITUDE: 5,4 Miles
DIFFICULTY: Low
STARTING POINT: Playa d'en Bossa
ARRIVAL POINT: Sa Canal
HOW TO GET THERE:
We reach the starting point from Sant Josep, heading in the direction of Eivissa along the road (PM-803), deviation to the Airport and from in the direction of Sant Jordi or Eivissa until we reach the roundabout "Sant Jordi – Eivissa – Sa Canal – Aeropuerto" and from Eivissa, on the Eivissa road to the Airport (PM-801), passing Sant Jordi until we reach the same rounda-bout, in both cases, then we take the turning to playa d'en Bossa parallel to the hippodrome. At the end of this road we continue straight and take the fi rst righthand turning which passes in front of a hotel until we reach a circular square with an access to the beach.
CROSSING:
Now on board, we navigate southwards where we can contem-plate the Torre des Carregador or Sal Rossa. Continuing from there and bordering the coast we will reach a small cove flanked by an islet called La Xanga or Cala de Sa Sal Rossa, with fishermen's huts on either side. Years ago this place used to be used for loading salt. We now find ourselves in the Ses Salines Nature Reserve, meaning that during the rest of the crossing it will be possible to sight aquatic birds from the nearby salt ponds. After bordering this cove, an area of cliffs appears with pine and juniper forests until the coast is reached. In this area there is no easy access to land until reaching Cala Recuita, where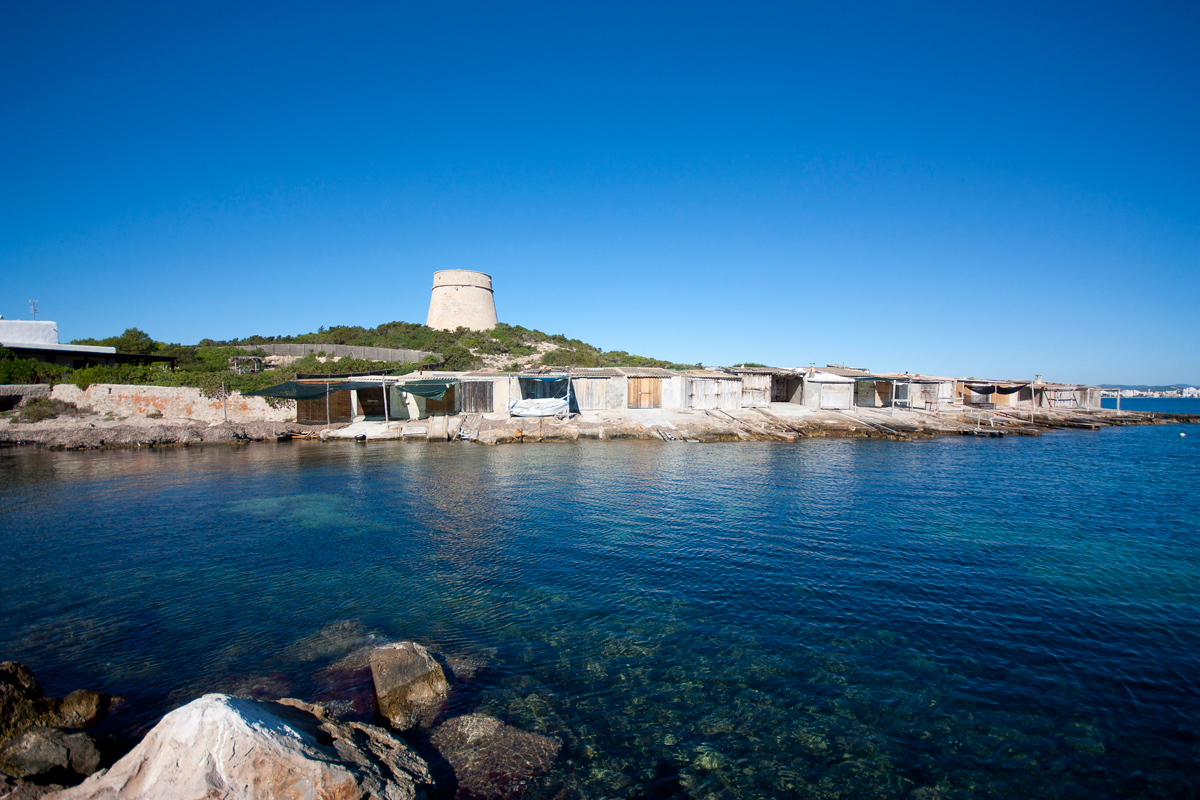 it is possible to disembark among the stones.Shortly afterward we will come across an arch made from rocks which we can pass through taking extreme care with the waves.
From here we reach La Escollera (old harbour used for embarking salt) and immediately afterwards we will see the very beautiful beach Es Cavallet, equipped with all the facilities.
At the end of this beach, there is an area of rocks reaching Punta de Sa Torre where we will be able to make out the Torre de Ses Portes (old wat-chtower). From here we will have an impressive view of s ́Espardell and s ́Espalmador, islets directing our sight towards Formentera.
We will come across some fi shermen's huts where we can disembark.Passing between the islets here can be complicated on days of rough sea, so extreme care is recommended.Once we have passed theses reefs we will come across several small co-ves with fi ne sand until reaching the beach of Ses Salines. It is one of the most famous beaches on the island and is very crowded in summer. It is recommended taking into account the possibility of encountering num-bers boats anchored and to be on the alert for the practice of water sports during the summer season.