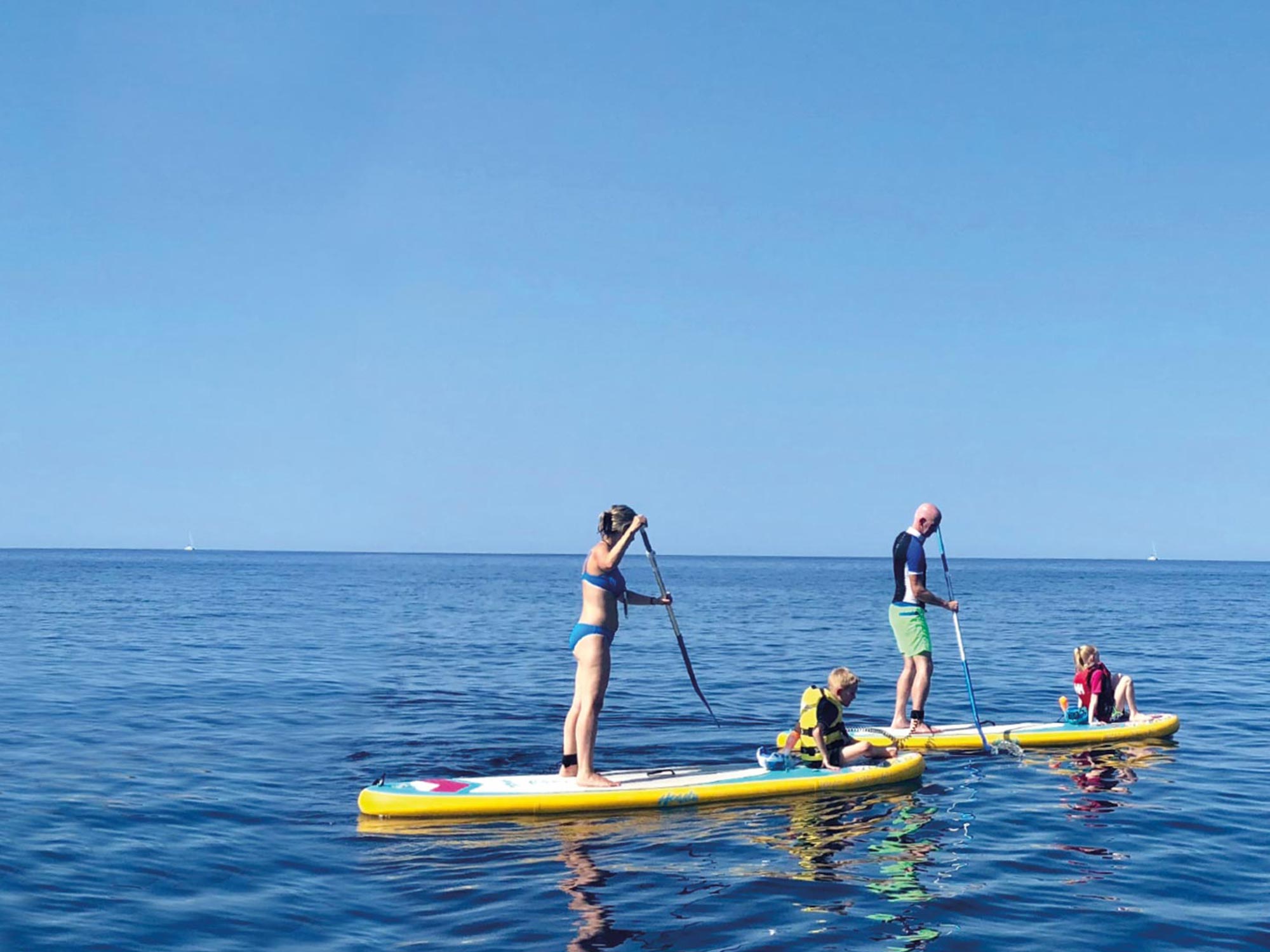 Family standup paddle surfing in Cala Vadella
Cala Vadella is a wide beach with a family atmosphere, sheltered by beautiful cliffs that make it a natural harbour with calm waters.
The courses take place inside the cove. We leave via the channel and practice near the coast but beyond the bathing area for safety and in order not to disturb other users.
The project consists of specialised instructors giving standup Paddle surf lessons to children accompanied by a parent, our paddle surfboards being designed to carry two people.
All participants must fill in a registration form and if children are unaccompanied they will need to bring an authorisation from a parent or guardian. The recommended minimum age for children to go unaccompanied is 6 years. It is compulsory to know how to swim.
Paddle Surfing is an activity suitable for all ages.
Duration and groups
Each class lasts 45 minutes, during which time a mini course will be given to learn how to use the material, the paddle surfing technique and safety rules. This will be followed by games for parents to enjoy with their children.
The groups have a maximum number of 5 people per hour.
After the class they will be given photos taken while they were in the water.

What is included?
– The material required per person consisting of a paddle surfboard, paddle, leash and life jacket
– Waterproof bag
– Civil liability insurance
What to bring?
Comfortable clothing, swimsuit, towel, footwear for use in water, bathroom and toilet accessories. Our centre has changing facilities for participants. It is advisable to bring sunscreen and a change of clothes.
Dates
Every Sunday from 15 April to 30 October (except 15 July to 30 August).
10:00 – 10:45 / 5 people
11:00 – 11:45 / 5 people
12:00 – 12:45 / 5 people
Reservations
– Email: supyogaibiza@gmail.com
– Phone: (+34) 654 013 347